Call Of Duty 2015 World Championship Has $1 Million Prize Pool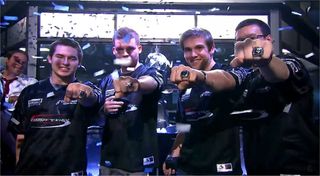 If you follow e-sports you're probably already psyched about the upcoming world championships for Call of Duty in 2015 set to take place in L.A., in California this upcoming spring. The championships will run through the weekend from March 27th through the 29th.
Over on the Call of Duty community website, details are dispensed to help give gamers a heads-up about the upcoming the tournament.
As noted on the website...
That's right, 32 teams picked from around the world will compete at the big showdown in the world championships this March. The main prize? $1 million to the winning team. It makes it seem like spending all day playing games look a heck of a lot more lucrative than the standard 9 to 5 most people hold down, eh?
In order to help pick up the hype levels for the e-sports tournament, a new hype video was released featuring some big moments and massive kills being rolled out by teams during the championship. You can scope out a look at the venue, some of the teams and action in the video below.
There's a ton of excitement and a lot of "hype moments" happening in that video but... I have to be honest: I don't get the hype behind competitive first-person shooters. While I haven't always been the biggest fan of Halo, at least the competitive-level tournaments make a lot of sense when you're watching the on-screen action. By that, I mean that you see people actively jumping, running and engaging their opposition.
When watching other first-person e-sport tournaments like for Counter-Strike, Combat Arms or Call of Duty I don't get it. You see the team start off and a bunch of people throw a bunch of grenades at the beginning; then everyone starts running fast switching weapons and hopping around; kills come sporadically and without any real coherency – the strategy looks like the most annoying kind of bullcrap I've ever seen. I honestly don't get it.
Maybe with Call of Duty: Advanced Warfare we'll see some more strategic gameplay? The focus on mobility and teamwork with Advanced Warfare might create a more followable format for spectators that doesn't look completely foreign and confusing. You know what's also sad? I can follow the strategies of MOBAs and RTS titles during e-sports events easier than first-person shooters.
Anyway, trials will commence throughout February and March. So scrap your team together and prep to try your hand at the $1 million this upcoming March. Need more info? Check out the official website.
Staff Writer at CinemaBlend.
Your Daily Blend of Entertainment News
Thank you for signing up to CinemaBlend. You will receive a verification email shortly.
There was a problem. Please refresh the page and try again.