Call Of Duty: Advanced Warfare Will Get Gun Game Mode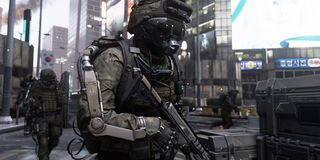 Call of Duty: Advanced Warfare's multiplayer had one serious shortcoming: it's missing the Gun Game mode from previous games. However, developer Sledgehammer Games plans to correct that mistake very soon.
Sledgehammer co-founder Michael Condrey teased Gun Game's release in Advanced Warfare with a tweet on Friday afternoon. It's a screenshot of a Gun Game match loading screen:
Gun Game, inspired by a Counter-Strike mod of the same name, was first introduced in Call of Duty: Black Ops. Six players battle in a free-for-all but don't get to choose their loadout. Instead, everyone starts out with a pistol. Each time they get a kill, their weapon was replaced with a new one. The first player to get a kill with all 20 weapons - which included assault rifles, shotguns, an RPG and a crossbow - wins the match. If you manage to knife an opponent, it will decrease their progress. Suicides do the same.
The mode reappeared in Modern Warfare 3, Black Ops 2 and Ghosts with different sets of weapons. Sledgehammer said prior to Advanced Warfare's launch that they would include Gun Game but it seems they didn't have time to finish it before launch.
More cynical players will assume that Sledgehammer withheld Gun Game from the launch build of Advanced Warfare so they could sell it to us as DLC later down the road. However, there's a reasonable chance this mode will be free. After all, Sledgehammer released the sniper-only One Shot Mode for no charge about a month ago. Supply drop daily challenges were recently added to multiplayer for free as well.
Condrey didn't mention when Gun Game would be released for Advanced Warfare. However, the screenshot suggests it's playable already so its launch may not be far away.
Gun Game's upcoming release gives me hope that we'll see the other Wager Match modes from Black Ops released in Advanced Warfare as well. Each was unconventional and a lot of fun. One in the Chamber gave each player a pistol with one bullet so they had to other players for more ammo. Sharpshooter cycled players' weapons every 45 seconds. Sticks and Stone armed everyone with a Crossbow, a Ballistic Knife, and a Tomahawk. These modes let us try out a wide range of weapons right off the bat and were a great change of pace from the usual rotation of multiplayer modes.
Staff Writer at CinemaBlend.
Your Daily Blend of Entertainment News
Thank you for signing up to CinemaBlend. You will receive a verification email shortly.
There was a problem. Please refresh the page and try again.