Call Of Duty: Black Ops 2 Revolution DLC Peacekeeper SMG Detailed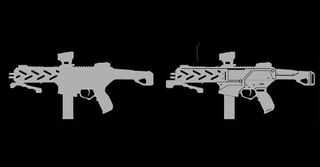 The Revolution Map Pack for Call of Duty: Black Ops 2 will be the first DLC in the series to add a weapon. Activision has published a new interview with Treyarch Studios in which they provide more information about the Peacekeeper SMG.
The Peacekeeper is a hybrid of a submachine gun and an assault rifle. The weapon is favored by special forces for counter-terrorism and VIP protection. It's as light as an SMG but has the range and accuracy of a rifle. The trade-off is that it's not as effective at close range.
The team at Treyarch wanted to make the gun look like cutting edge technology. Black Ops 2 is set in the near future but the Peacekeeper is supposed to be an elite weapon even in that time. As a result, the surface of the gun is made up of synthetic polymers and other lightweight material. The base finish of the gun is white, which by itself should make it stand out among other weapons from the game.
Treyarch previously announced that the Peacekeeper would have its own XP challenges. In this new interview, they confirmed that you can acquire diamond camouflage for the weapon as well. Diamond will be unlocked for the Peacekeeper after you earn diamond for the 6 core SMG's and gold for the Peacekeeper
Revolution will be the first of four map packs released for Black Ops 2. It includes five new maps and a new zombie mode. The map pack will debut on Xbox Live on January 29th. The PS3 and PC launch will follow at a later date.
Staff Writer at CinemaBlend.
Your Daily Blend of Entertainment News
Thank you for signing up to CinemaBlend. You will receive a verification email shortly.
There was a problem. Please refresh the page and try again.