GTA 5 Sales Hit $800 Million On Launch Day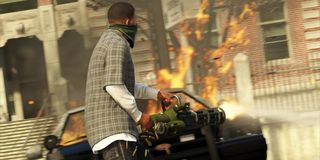 Grand Theft Auto V has earned over $800 million in a single day according to Take-Two Interactive's estimates. The open-world crime game, released worldwide on Tuesday, enjoyed the best launch day of any Take-Two game released to date.
"All of us at Take-Two are thrilled with the initial response to Grand Theft Auto V. Once again, the team at Rockstar Games have outdone themselves, setting the entertainment industry's new standard for creativity, innovation and excellence," said Take-Two chairman and CEO Strauss Zelnick in the press release. "Beginning at midnight on Monday, consumers around the world gathered in anticipation to be among the first to experience the evolution of this remarkable series. In North America alone, more than 8,300 stores opened their doors atmidnight to welcome fans whose loyalty and enthusiasm were rewarded with what The New York Times called 'the most immersive spectacle in interactive entertainment'.
"We are incredibly proud of Rockstar Games' creative achievement and could not be more pleased with the success of this launch."
The huge sales aren't much of a shock. After all, Grand Theft Auto IV had a record-breaking launch day a few years back. Still, GTA V's take puts its predecessor to shame. The older game's first-day haul was $310 million, which is an enormous pile of money but still less than half of GTA V pulled in.
GTA V's launch day even eclipses Call of Duty: Black Ops 2's $500 million day. It would appear, then, that yesterday was the biggest sales day we've ever seen in gaming. I'm surprised Take-Two didn't point that out, but maybe they don't want to make the claim just based on their estimates.
The game returns the series to Los Santos, the setting of last-gen title GTA: San Andreas. Players take on the role of criminals Michael, Trevor and Franklin in a series of heists. Alternately, they can explore a massive game world and engage in side activities that range from tennis to sky diving to racing.
It's estimated that GTA V took over $265 million to develop and market. That sounded like an obscene amount of money at the time. However, Rockstar already made their money back three times over in a single day so this won't be the last quarter-billion-plus game to be developed.
Rockstar and Take-Two's earning spree is far from over. Even after sales for the Xbox 360 and PS3 versions taper off (which should take awhile), they can make even more money by selling DLC episodes to these gamers. There's also rumors that Rockstar is developing the game for PC and next-gen consoles.
Staff Writer at CinemaBlend.
Your Daily Blend of Entertainment News
Thank you for signing up to CinemaBlend. You will receive a verification email shortly.
There was a problem. Please refresh the page and try again.