Capcom Classics Coming Tomorrow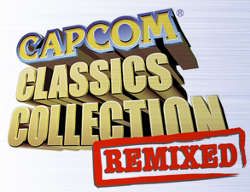 Capcom Classics Collection: Remixed, a collection of classic arcade games from Capcom, will arrive on the PlayStation Network tomorrow. It's just the beginning of a flood of re-releases from Capcom.
Remixed includes the following twenty games from days of yore:
1941: Counter Attack
Avengers
Bionic Commando
Black Tiger
Block Block
Captain Commando
Final Fight
Forgotten Worlds
Last Duel
Legendary Wings
Magic Sword
Mega Twins
Quiz and Dragons
Section Z
Side Arms: Hyper Dyne
The Speed Rumbler
Street Fighter
Strider
Three Wonders
Varth
In addition, the following games will be released through PSN in the near future:
Mega Man Powered Up (UMD Legacy)
Dino Crisis (PlayStation Legacy)
Power Stone Collection (UMD Legacy)
Mega Man Maverick Hunter X (UMD Legacy)
Resident Evil 2 (PlayStation Legacy)
Darkstalkers (UMD Legacy)
Street Fighter Alpha 3 Max (UMD Legacy)
Resident Evil 3: Nemesis (PlayStation Legacy)
Capcom Classics Collection Reloaded (UMD Legacy)
The prices for Remixed or any of these upcoming re-releases weren't revealed. Capcom did, however, mention that PSP fighting game Fate Unlimited Codes will arrive in North America and Europe later this summer. It was released in Japan in June.
Staff Writer at CinemaBlend.
Your Daily Blend of Entertainment News
Thank you for signing up to CinemaBlend. You will receive a verification email shortly.
There was a problem. Please refresh the page and try again.