Check Out Dying Light's Touching Tribute To Deceased Fan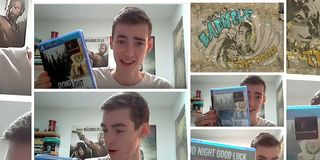 Video games are frequently home to heartwarming stories and, sometimes, those tales of love and compassion spill over into the real world. That's exactly what happened recently with Dying Light, with developer Techland doing something special to memorialize a young fan who succumbed to cancer earlier this year.
Dying Light is, at its core, a game about killing zombies. Who would have thought that such a game could spawn something as touching as the story that recently went live on Kotaku, revolving around a 17-year-old fan of the game who passed away earlier this year.
While David Acott jokingly acknowledge the fact that he was a bit too young for Dying Light's mature rating during an unboxing video he posted to Youtube, it was clear that the guy was very, very excited for the game. Shortly after posting his unboxing video, however, Acott returned to Youtube to announce something you never expect to hear from someone so young: He had been diagnosed with cancer, a complication of a liver transplant from years prior that had saved his life.
But as was pointed out in the original story, even faced with this life-shattering news, Acott lit up when he returned to talking about his new favorite game, Dying Light. He was also excited to show off his new strategy guide for the game, which he'd be able to read while in the hospital in preparation for mastering the game.
Acott passed shortly after posting his last video to Youtube, but that's not where his story ended. Acott played a lot of games with his younger brother and, after his passing, his mother became more interested in this hobby that had captivated her son. The folks at Techland were keyed in to Acott's tale, and so they reached out to his family and, according to the original story, "found themselves welcomed into Techland's world."
Working with the family, Techland patched a mural into Dying Light to commemorate Acott, his love of the game, and a life that won't be forgotten. The Acott family then went on to visit the team at Techland to thank them in person, resulting in a bitter-sweet ending that you don't often hear coming out of a story that begins with such tragedy.
I'm being purposefully vague here because Keza MacDonald's original story is absolutely worth the read, and I seriously encourage our readers to follow the link at the top of this story and give it a full read. Even if you don't care for Dying Light, this story that evolved out of a player's love for the game is universal.
Your Daily Blend of Entertainment News
Staff Writer for CinemaBlend.
Your Daily Blend of Entertainment News
Thank you for signing up to CinemaBlend. You will receive a verification email shortly.
There was a problem. Please refresh the page and try again.