Dying Light Developers Have Hilarious Response To Destiny's Red Bull DLC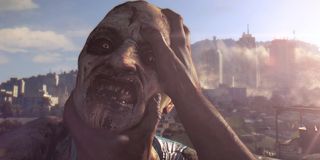 This week Bungie announced a special DLC pack for Destiny that can be obtained by drinking Red Bull. Dying Light studio Techland decided to troll Bungie with a similar promotion.
The Dying Light promo rewards players for drinking water:
Codes on Red Bull cans will give Destiny players one-time consumables that grant XP. Techland is simply promising a Glass of Water, a "many-times consumable":
The developer also mocked the Extreme Sports image that Red Bull has tried to cultivate over the years:
This isn't the first time that Dying Light has had some fun at Destiny's expense. An Easter Egg in Dying Light poked fun at the "loot cave" in Bungie's shooter.
Techland really is giving away DLC through this mock promo, though. They're asking fans to tweet a picture of them drinking water and tag it #DrinkRightDyingLight. Everyone who does so will get a voucher code for a premium weapon docket redeemable at dockets.dyinglightgame.com. These codes will be sent out soon.
Dockets are kind of like SHiFT codes from Borderlands. They give you a weapon that's either rare (blue), exceptional (purple), and legendary (orange). Also, said weapon is matched to your experience level so it's a good idea to hang onto them until later sections of the game. This video explains how to set up your account for dockets and then acquire the weapons within the game:
While Techland plans to give away these weapon dockets for free, they're preparing more paid DLC for the game as well. A future add-on will introduce vehicles and a new region to the game.
Staff Writer at CinemaBlend.
Your Daily Blend of Entertainment News
Thank you for signing up to CinemaBlend. You will receive a verification email shortly.
There was a problem. Please refresh the page and try again.