Club Nintendo November Rewards Include Classic Metroid, Smash Bros. Posters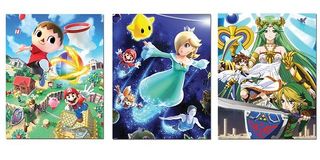 Club Nintendo is offering up some new goodies for all of you Coin collectors out there, including a pair of new Wii U games, two more Wii games and four 3DS titles in exchange for your continued loyalty to the great and powerful N. There's also a pretty rad Smash Bros poster set, for those of you who prefer physical goodies.
The Nintendo Rewards program is a pretty simple operation. Step one: Buy Nintendo products, whether they be physical games, virtual games or consoles. Step two: Register those products through the Club Nintendo website to earn Coins. Step four: Take the occasional optional survey to earn additional Coins. Step five: Profit. And by "profit," I mean cash in those coins for a rotating crop of games and physical goods as a way of Nintendo saying thanks for purchasing their various this and thats.
Nowadays, Nintendo isn't so big on dishing out the physical goods. The Rewards site used to be overflowing with postcard sets, statues, game and console cases, silly little patches and the like. Nowadays, you can find a handful of themed greeting cards and that's about it. This past month, however, Nintendo pulled a fast one on us and introduced a trio of Super Smash Bros posters in exchange for a big 700 Coins. It's a pretty nice change of pace, especially if the digital goods aren't catching your eye. This ties in nicely with the upcoming Amiibo figurines due for release in early 2015, as noted in the Nintendo News channel update.
And you wouldn't be blamed for overlooking the digital prizes this month, actually, as those of you gaming on Nintendo's home consoles don't have much to get excited about. Pilotwings and Vegas Stakes are up for grabs on the Wii U for 200 Coins, while OG Wii users can get their hands on Clu Clu Land for 200 Coins and PictureBook Games: Pop-Up Pursuit for an inexplicably premium 250 Coins.
The 3DS options are a bit more intriguing, however. Tokyo Crash Mobs and Starship Defense aren't bad options for 200 Coins, but the real winners are the Game Boy classics on offer for 150 Coins apiece. This month, you can grab Kirby's Pinball Land or Metroid II: Return of Samus. That is, of course, if you aren't too busy with the newest Pokemon titles.
As a reminder, these games won't be sticking around forever. The posters will be available until Nintendo runs out of stock, so you might want to move with a quickness if you're thinking of getting those. Otherwise, the games collection will swap out come Dec. 14.
On a side note: Do people actually use posters for their intended purpose nowadays? I mean, we had them all over the walls when I was growing up but, what with these new generations and all their wall scrolls, goofballs and Minecraftings, I'm not sure I've seen a legitimate poster hanging on a wall in more than a decade. Just sayin'.
Your Daily Blend of Entertainment News
Staff Writer for CinemaBlend.
Your Daily Blend of Entertainment News
Thank you for signing up to CinemaBlend. You will receive a verification email shortly.
There was a problem. Please refresh the page and try again.