Microsoft Purchase Of Mojang Finally Goes Through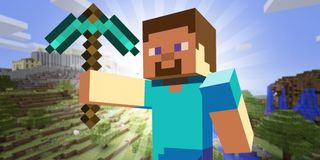 And now, just like that, Mojang and Microsoft have been joined in holy matrimony. Microsoft Studios' Phil Spencer made the official announcement just yesterday morning, letting everyone know that the house that Minecraft built had officially been purchased by the home of the Xbox.
You see, boys and girls, when a publisher decides that it loves a developer, sometimes those two entities get together and, well, perhaps this is an explanation better left up to your mom and dad. No matter where you learn about the birds and the bees of business though, yesterday's announcement all boils down to one simple fact: Microsoft and Mojang are officially enjoying spaghetti from the same plate.
PC Games brought our attention to Phil Spencers' tweet from Thursday, stating "It's official, today we welcome Mojang to the Microsoft Studios family. We're excited for the possibilities ahead w/the Minecraft community." We're pretty sure he would have squeezed an "XOXO" in there, had the 140-character count not been an issue.
We reported back in September that Microsoft was in the process of purchasing the developer of Minecraft, but these kinds of procedures can take time for all of the T's to be crossed and I's to be dotted. It looks like that time has officially come, however, as the $2.5 billion deal has now gone through. For those who are fearful that this means bad things for Minecraft's future on other platforms, however, everyone involved is busy reassuring fans that the do-it-yourself adventure game will continue to expand in all directions.
"Minecraft will continue to evolve, just like it has since the start of development," said Mojang's Owen Hill in the original report. "We don't know specific plans for Minecraft's future yet, but we do know that everyone involved wants the community to grow and become even more amazing than it's ever been. Stopping players making cool stuff is not in anyone's interests."
That goes for versions of Minecraft on non-Microsoft platforms, too, evidenced by the recent release of the game on the PlayStation Vita. Things could always change but, when you've built an audience on multiple platforms, it doesn't seem like a good business decision to suddenly turn a game into a single platform title. At that point, you'd just be throwing money away and disappointing the people who made you all of that fundage in the first place. Of course, though, this does put into question exactly what could potentially come of a Minecraft port on a Nintendo console? They were the only ones not to get some sort of version of Minecraft and it's looking unlikely that that will happen at this stage in the game.
Now that the sale has gone through, it's likely we will ever hear from Minecraft creator Markus "Notch" Persson again. He stated that the sale of the company would mean his departure on solid terms and, considering how much money we're talking about here, the guy is probably going to move to an island and coat all of his earthly possessions in gold.
Your Daily Blend of Entertainment News
Staff Writer for CinemaBlend.