Combat Arms: New Papa Server Welcomes Super Soldiers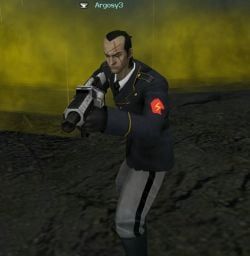 Nexon announced that a brand new server has launched for the most popular free-to-play online shooter, Combat Arms, and the name of the server is called Papa. Besides its oddly unique name the server is more for recreational gamers who don't mind lesser recoil, larger hit boxes and a few other goodies.
Oh wait, but there's more. As stated in the press release…
For those of you thinking that this might be a little silly, maybe you should check out how the super soldier boosts work before throwing up your arms and calling foul. The complete list of the boosts is below. The new update also features new mini-missions as well, but for more info on the new features, including a brand new deathmatch map, be sure to visit the Official Combat Arms Website.
Super Soldiers boosts:
• Nimble Footwork: Increases speed and stamina
• Super Concentration: Decreases recoil
• Merciless Attack: Increases damage and firing speed
• Flawless Defense: Increases DEF and max HP
• Endless Attack: Unlimited magazine recovery and enhanced firing speed
• Enduring Phoenix: Increases max HP and stamina
• Super Recovery: Recovers 100% HP (instant)
• Superalloy Skin: Immune to all damage
• Infection Transformation: Transform into Zombie from Quarantine Mode
• Super Spy Transformation: Transform into Super Spy character from Spy Hunt mode
Your Daily Blend of Entertainment News
Staff Writer at CinemaBlend.