Corsair Adds Dolby 2.0, Pro Logic IIx Support To Vengeance 2000 Headsets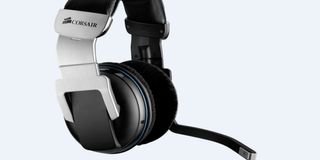 If you were a little disappointed in Corsair's headset offerings with the Vengeance 2000 brand because it didn't have proper support for Dolby Headphone 2.0 technology and Pro Logic IIx features, then you're in luck because Corsair just announced that they have released updated drivers for the Vengeance 2000 headsets.
The headset already features some of the latest in audio technology, with the press release noting that...
With the added Dolby Headphone 2.0 technology and Pro Logic IIx support, it's easy to get the most out of your gaming experiences with Corsair's Vengeance 2000 headset.
What's more is that the custom engineered 50mm speakers and micro-fiber memory foam earpads give it both the technological and comfort edge required for long gaming sessions. Given that it's also wireless, you can play-and-charge using the micro USB cable.
The Vengeance 2000 gaming headset is currently available along with Corsair's recent update for the set.
If you're curious about Corsair's products, including their gaming mice or gaming keyboards, feel free to visit their Official Website.
Your Daily Blend of Entertainment News
Staff Writer at CinemaBlend.