Counter-Strike: Condition Zero Hits Linux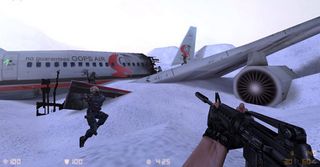 Valve has added Linux support to another one of their games today. Linux owners can download and play Counter-Strike: Condition Zero through Steam right now.
Counter-Strike started as a user modification to Half-Life. Players are split up into two teams, counter-terrorist and terrorist, to compete in objective-based matches. Counter-terrorists must rescue hostages from the terrorists, or prevent terrorists from planting a bomb on a target. With each round, players earn money to purchase weapons, body armor and other equipment.
Condition Zero retains the multiplayer of the original mod. It also introduces bots so players don't need to play against human opponents. The single-player campaign has players working alongside a team of A.I. counter-terrorists in a variety of missions.
Steam officially launched for Linux last month. The Linux client can be downloaded through the Ubuntu Software Center. If you already purchased PC or Mac versions of games through Steam, you'll be able to download the Linux versions as well for no charge.
There are now 80 Linux games available for Steam. Valve has contributed many of their internally-developed titles to this total, including Half-Life, Counter-Strike and Team Fortress 2. They intend to release more of their titles on Linux in time as well. Half-Life 2, Portal, and Left 4 Dead are all appealing possibilities.
Your Daily Blend of Entertainment News
Staff Writer at CinemaBlend.
Your Daily Blend of Entertainment News
Thank you for signing up to CinemaBlend. You will receive a verification email shortly.
There was a problem. Please refresh the page and try again.