'D4: Dark Dreams Don't Die' Won't Ever Release On PS4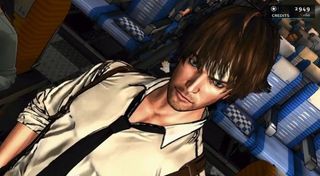 Some exclusives are destined to stay as exclusives. Throughout the seventh generation of gaming we saw a lot of former exclusives turn into multiplatform titles, from games like Tekken and Final Fantasy, to Mass Effect and Condemned. While eighth-gen is already full-up with multiplatform titles, the one thing you won't be seeing is Access Games' D4 making its way to a PlayStation console... at all.
GameSpot spotted tweets from game director Hidetaka Suehiro, better known to gamers as Swery65, who kept it short and sweet responding to fans about whether or not the recently released adventure game, D4, would find its way onto the PlayStation 4. Here's what he had to say.
Suehiro was a little more coy about whether or not the game could find its way onto PC, dancing around the issue by saying that he was busy doing press for the Xbox One exclusive. Given that Ryse and Dead Rising 3 have both been ported from the Xbox One to PC, it's not unlikely that we might see a PC port somewhere down the line.
Also keep in mind that this exclusivity deal may not entirely extend to sequels. One of the things we found out was that EA and Respawn Entertainment really seem to be gunning for the idea of a multiplatform release of Titanfall 2.
With D4 it's a little tough to tell if – even if the original game does well enough to warrant a sequel – Microsoft would continue to pump money into the off-center Japanese niche title? With Mass Effect they weren't too beholden to the franchise to keep it on the Xbox 360, allowing EA to take hold of the brand and port it to the PS3 and Wii U. And as we all know, the developers don't really have a say on a property unless they have a contract that gives them a say in the distribution deals (which is rare).
As for D4 itself – you can pick up a copy of the game right now. It's a real odd one. You can check out a gameplay segment below that showcases some of the point-and-click mechanics at work. I can't really tell you what's going on but something is obviously going on.
You can learn more about Access Games' off-the-wall adventure title by paying a visit to the game's official website.
Your Daily Blend of Entertainment News
Staff Writer at CinemaBlend.