DOOM Closed Beta Announced Along with A New Trailer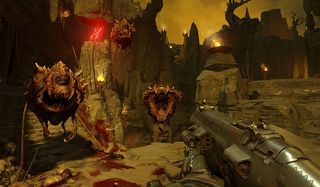 It's almost time to go straight to hell. Details for the DOOM multiplayer beta went live today courtesy of a new gameplay trailer, and it looks like folks will be shooting (as well as turning into) demons very, very soon.
That's right, the DOOM multiplayer beta is set to go live on March 31 and run through April 3. If you don't have a calendar hand, or are just really bad at math, that means you get just four days to play as much DOOM as demonically possible prior to the game's actual launch.
The DOOM multiplayer beta will go live during that time for all three of the game's launch platforms, including the PlayStation 4, Xbox One and PC. As for how you can get into this violent shindig, your moment may have actually already passed. As far as we've heard, the Doom beta is only open to folks who bought a copy of Wolfenstein: The New Order.
However, since DOOM doesn't actually launch until May 13, we've got our fingers crossed that another, more open beta will follow. If you're curious as to your eligibility to play in the beta, however, you can check on your status by heading to the official website. If you get in, you'll be able to play two modes, including Team Deathmatch and Warpath. Two maps will also be available, including Heatwave and Infernal.
As you can see in the above trailer, this ain't the DOOM many players might remember. The characters are fast, far more mobile and have all sorts of special moves they can unleash now. Honestly, it looks like what you would get if a bunch of Spartans from Halo were sent in to kill a bunch of nightmare creatures. We're not saying that's a bad thing, just that you shouldn't go in expecting the slower-paced shooting of OG Doom. Go in expecting a modern take on something like Unreal Tournament, though, and you'll feel right at home.
As for that Warpath game mode, that also seems to be an idea borrowed from the more recent Unreal Tournament. While shooting your opponents, an item will appear that lets one player turn into a beefed up demon. If you kill the demon, you can become the demon yourself. The demons look to have all sorts of unique abilities, so we're wondering if picking which demon you turn into will be a part of each player's multiplayer loadout.
Anyway, it sure looks like some fast-paced shooty fun. Let us know your thoughts in the comments section below.
Staff Writer for CinemaBlend.
Your Daily Blend of Entertainment News
Thank you for signing up to CinemaBlend. You will receive a verification email shortly.
There was a problem. Please refresh the page and try again.