Dark Souls 2 Listed For Xbox One, PS4?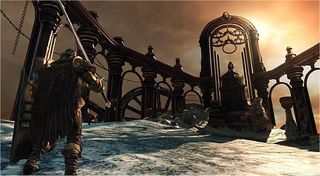 It's not uncommon for video games to get listed for consoles well before they've been officially announced. Some times these listings are true, other times they are completely bogus. This very instance has recently occurred for a very popular seventh generation game, Dark Souls II, that might be arriving for the PlayStation 4 and the Xbox One.
For now it's nothing more than a rumor, but Total Xbox spotted a listing on Tesco Direct that lists From Software's Dark Souls II for both the Xbox One and the PlayStation 4.
As noted in the Total Xbox article...
Quite naturally, the article focuses on the Xbox One given that the name of the website is "Total Xbox". However, Tesco has a listing for both the Xbox One and the PlayStation 4.
As mentioned, there is no release date set for, but there is a placeholder date that shows December 13th, 2013. As we all know, last year already happened so it's unlikely that the game is coming out last year for the eighth-gen twins.
The game also lacks box art for both consoles. Given that there has yet to be an official announcement, it would be unlikely that a retailer would have box art for the consoles, although it's not unlikely for some retailers to use placeholder box art.
From Software or Bandai Namco have not made any public comments about the release of Dark Souls II for Sony's or Microsoft's new home entertainment consoles, but it's not entirely unlikely that an official announcement might be coming soon.
Previously, we saw plenty of retailers listing Grand Theft Auto V for the Xbox One, PC and the PS4. First it was Amazon back in the early part of 2013, and then – after many other online retailers followed suit – we had a Romanian retailer jumping in with pre-orders for GTA V. The pre-orders weren't actually bogus, as it was made known by Rockstar Games shortly after the Romanian listing that the game was, indeed, coming to the PS4 and Xbox One. However, due to a lot of people feeling kind of burned on the silence about the game coming to the PS4 and Xbox One, pre-orders slowed down drastically for GTA V.
As for Dark Souls II, it wouldn't be unlikely for the game to appear on the eighth-gen consoles. It would probably be a lot more exciting if the game made an appearance on the Wii U – considering that they could use a hard-as-nails action RPG – as it would be a pretty slick surprise.
Even still, we'll keep you posted if Dark Souls II does decide to make an appearance this holiday season for either Sony or Microsoft's console. You can pick up Dark Souls II right now for the Xbox 360, the PS3 or the PC.
Staff Writer at CinemaBlend.
Your Daily Blend of Entertainment News
Thank you for signing up to CinemaBlend. You will receive a verification email shortly.
There was a problem. Please refresh the page and try again.