GTA 5 Pre-Orders Listed For PS4, Xbox One At Romanian Retailer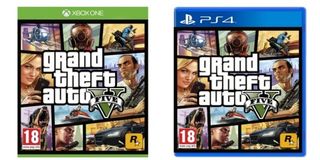 Whether or not this is legit remains to be seen, but the links seem to work and I came a nostril's hair close to putting down 299.90 lei for the pre-order of GTA V on the PS4. So I'm going to guess that this is potentially legit.
According to GotGame, GTA V is being listed for pre-order on Romanian e-tailer site, Altex.ro.
The game is being listed for availability at the 299.90 lei mark, which is close to $95 U.S., dollars, and the placeholder shipping date is June 15th, 2015.
You can go on through with the pre-order for both the PS4 and the Xbox One.
Now if I were an average reader I would say "Pics or GTFO!" but considering that I kind of live around these parts, I can't get out. I can, however, provide pics.
Look at all that panty-tugging teasing... mm, mm, mm. So close, yet too many Eastern-European currencies away.
Whether or not Altex is just using the pre-order to bolster their own sales during a dry period, holding on to your cash (or Romanian gamer cash) just for the heck of it remains to be seen, but I tend to doubt that a retailer would put up a listing and start taking money for something that's never coming.
Besides, there's been plenty of ample evidence since the release of GTA V on PS3 and Xbox 360 last year that suggests that a PC and eighth-gen console rendition is on the way. That's not to mention that Rockstar went into full legal-mode over a few videos that "leaked" claiming to contain footage of the PC version of GTA V from a playable build.
While I don't doubt that GTA V is probably up and running right now on the PCs at the offices of Rockstar Games, I do doubt whether or not Take-Two and Rockstar will follow-through.
And that leads us to the next point: Is June 15th, 2015 a viable release date for GTA V if Rockstar decided to follow-through? It would be launching during a thin time in which AAA releases won't be flooding the market. But is it a viable time in which Rockstar could capitalize on the kind of funds they want from the new-gen and PC crowd? I would like to imagine there would at least be 10 through 15 million PS4s on the market by that time and enough Xbox Ones in homes so that Rockstar can sell another 10 through 15 million SKUs across the eighth-gen wonder twins and the PC.
Of course, we won't know for sure until Take-Two and Rockstar give the word. Until then, we're stuck with more GTA V community videos and plenty of speculation.
Your Daily Blend of Entertainment News
Staff Writer at CinemaBlend.