Dark Souls 2 Patch Will Add New Character, Ring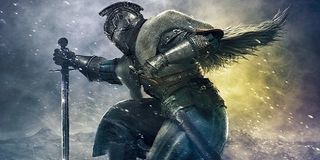 In case your year-old copy of Dark Souls 2 didn't already feel complete enough with its massive story and three huge DLC packs, you'd better get ready for even more content as Bandai Namco gears up to release a new patch for the game, offering even more content and some additional tweaks (like a new character and a new ring) to prepare for the shift to its "ultimate version" of the game.
In April, Dark Souls 2 will finally make its way to the PlayStation 4 and Xbox One with the new subtitle, Scholar of the First Sin. It'll include all three of the DLC packs previously released for Dark Souls 2, as well as some new content. The re-release also comes with optimizations for those new platforms.
Owners of the original version of Dark Souls 2 need not feel left out in the cold, however, as an upcoming update will bring the game in-line with its next gen siblings. It won't look as pretty, of course, but at least you don't have to feel like a second purchase is in order if you already enjoy the OG version.
As Bandai Namco recently announced, February 5th is the date to mark on your calendar for owners of the original game. That's when a free update will be made available "bringing gameplay enhancements and new story elements to prepare for Scholar of the First Sin."
There's a pretty massive list of changes and new inclusions on that original post, but a handful of items really stand out. For starters, it turns out that the mysterious Scholar of the First Sin is actually a new character in the game, so keep your eyes out for that guy as he's likely to be your gateway to some new story elements.
Also being added in the update is a new Agape Ring.
"When players equip the new Agape Ring, souls collected from kills during online play will be absorbed by the ring rather than the player," reads the description. "This allows players to control their online matchmaking experience by limiting their total souls collected."
February 5 is just around the corner so, if you already own Dark Souls 2 for Xbox 360 or PS3, get ready to die again. And again. And again. And...Well, you get the point.
Folks who like extreme challenges and repeated death are about to get extremely busy. Dark Souls 2's Xbox One and PS4 debut will be preceded by the series' spiritual cousin, Bloodborne. Bloodborne looks to be a faster, more action-driven take on the dark fantasy RPG formula and is due out March 24 of this year. Expect all of the insane combat against overwhelming odds and massive enemies that you get from the Dark Souls games, but with the added bonus of a spiffy had and a high-powered blunderbuss to help dish out some damage.
Your Daily Blend of Entertainment News
Staff Writer for CinemaBlend.