Bloodborne Multiplayer Chalice Dungeons Detailed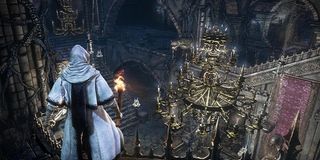 As we discovered a couple of weeks ago, Bloodborne is going to offer some cooperative monster hunting action in the form of "Chalice Dungeons." Now we've got even more details as to what these challenging new missions will offer, including a handful of the dangerous creatures you'll be going toe-to-toe with when the game launches on March 24.
Bloodborne's multiplayer component made an appearance during The Game Awards presentation and the PlayStation Experience stage show back in early December, giving gamers their first taste of what cooperative gameplay in a blood-soaked gothic city will be like. Now, thanks to a recent post on the PlayStation Blog, we've got some additional details on the beasties and locations that will be present in those Chalice Dungeons, including the guard dog we saw pulverizing players during those demonstrations mentioned above.
The folks at From Software are no stranger to dark and moody settings or tough-as-nails gameplay. They're responsible for the Dark Souls series, after all. And that DNA certainly seems to be bleeding into Bloodborne, a game where players will be tasked with wiping out a growing monster horde in a Victorian-era city that doesn't seem to have any idea what the sun looks like. When I first saw the game on display during E3 2014, everything on display smacked of that delicious Dark Souls goodness. From the character's movement to the extremely detailed worlds and baddies, it felt like I was watching a slightly faster-paced version of the award-winning series.
Now that we've had our first glimpses of the multiplayer, it reminds me of a similarly dark and twisted series for the PlayStation Vita, Soul Sacrifice. Despite having the word "Soul" in the title, the two series are completely unrelated but, in Soul Sacrifice, a group of players team up and try to take on hulking beasts that look like they were pulled directly out of some deranged person's worst nightmares.
According to today's PS Blog post, Bloodborne's Chalice Dungeons will take players into regions located under the main game's city of Yharnam.
"By using holy chalices, players can enter these dungeons and explore the vast structures and multiple levels," reads the announcement. "However, every time a portal is opened up, the structure of the dungeon itself changes. These dungeons are filled with traps, nightmarish creatures, and of course rewards for brave and skilled hunters to claim whether the complete them on their own or with the help of other hunters online."
You'll also be able to share the dungeons you discover with your friends, featuring everything from bubbling swamps to crumbling grand halls, according to the post. Finally, these areas will be protected by all sorts of monsters, including the most terrifying of them all, the "protectors" (like that guard dog we were discussing earlier) and "protector ritual masters," mysterious and powerful foes who can sling some killer magic.
Your Daily Blend of Entertainment News
Staff Writer for CinemaBlend.