Dark Souls 2 Sins Of The First Scholar's Improvements Detailed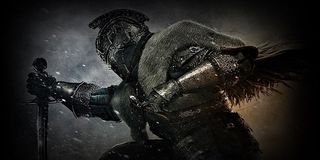 With Dark Souls II: Scholar of the First Sin set to release on the PlayStation 4 and Xbox One later this month, many gamers are left wondering what, exactly, will distinguish the game from its last gen counterpart. Thanks to a recent hands-on report, we now have a few ideas about what might make this dark RPG worth a double dip.
The Souls series is one of my favorite things to come out of gaming in the past decade. The original Demon's Souls was an unexpected darling that instantly won me over with its dark atmosphere, amazing interconnected maps, steep difficulty and gameplay that was a constant balancing act between risk and reward. Then Dark Souls and Dark Souls II came along and basically cemented the series as one of my all-time favorites.
The developers at FromSoftware have built up a nice bit of buzz concerning their next gen offering and spiritual cousin to the Souls series, Bloodborne, but that doesn't mean we should just forget about the enhanced version of Dark Souls II that's hiding just around the corner, set to release on April 7.
To help get PlayStation 4 owners primed to die over and over again, the PlayStation Blog's Social Media Senior Manager, Sid Shuman, has gotten in some hands on time with the game and, according to his findings, we should expect more than just your typical facelift.
For starters, Shuman points out that, yes, Scholar of the First Sin will run at a crisp native 1080p resolution, meaning that the already impressive looking game will prettier, and perhaps more frightening, than ever. That's be bolstered by a frame rate of 60 fps, according to Bandai Namco, meaning that all of those unfortunate deaths will at least be easy as hell on the eyes. Shuman also states that this will account for "more responsive movement and combat," which is a huge plus in my book.
In traditional Dark Souls fashion, the developers have found some unexpected ways to keep the game difficult for newcomers and vets alike. For starters, various items and enemies will be in new locations, meaning you can't rely on your memories from the original PS3 version. Also, enemies can now chase you down through greater distances and even through previously impassible fog gates, so good luck backing down from a tough fight!
We can expect some weapon tweaks, too, with some heavy hitters losing durability more quickly and some less used arms popping up in easier to find locations or perhaps getting buffs.
And let's not forget about all of that content, including everything from the core game, all three DLC bundles and the new Scholar content. So whether you're a DSII vet or a newcomer on the PS4, it sounds like Scholar of the First Sin might make an already great game even better.
Staff Writer for CinemaBlend.
Your Daily Blend of Entertainment News
Thank you for signing up to CinemaBlend. You will receive a verification email shortly.
There was a problem. Please refresh the page and try again.