Demon's Souls Servers Won't Shut Down This Month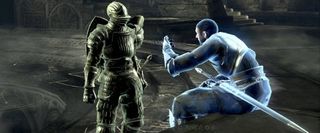 It looks like Demon's Souls servers won't be going offline at the end of May after all. Atlus, publisher of the game in North America has decided to extend support for the action RPG for the "foreseeable future" in that region.
"We're incredibly excited to be able to announce that the Demon's Souls online experience will persist for a while longer," said Tim Pivnicny, Vice President of Marketing and Sales at ATLUS, in an e-mail to Game Informer. "While it originally seemed as though it would be unfeasible for us to continue to sustain the servers, a number of developments have made it possible for us to continue to invest in and support our fans as they have continued to invest in and support us and Demon's Souls."
This is just the latest in a string of reprieves that Demon's Souls has received. The game's servers were supposed to shut down in March 2011, but then Atlus extended service until that fall. Once fall arrived, they decided to keep the servers going into 2012.
Once the May shut-down date was announced, many assumed it wouldn't change. After all, Souls developer From Software has since released the game's successor, Dark Souls. Presumably that game has drawn away many players from the original. Apparently gamer interest is still high enough for Demon's Souls for Atlus to keep the servers going, though.
Demon's Souls is first and foremost a single-player game but has a number of interesting online features. Players can leave hints for each other throughout the world. You can also enter into another player's game and either help or attack them. You can play the campaign from beginning to end while staying offline but you'd be missing out on an important aspect of the game. Glad to hear that new players will be able to experience those features.
For this weekend, Atlus will be hosting a White World Tendency event. It was originally supposed to be part of the game's "last hurrah" but now it's sort of a celebration of the game's continued life.
Staff Writer at CinemaBlend.
Your Daily Blend of Entertainment News
Thank you for signing up to CinemaBlend. You will receive a verification email shortly.
There was a problem. Please refresh the page and try again.