Dead By Daylight Is Just Another Upcoming Slasher Horror Game—Or Is It?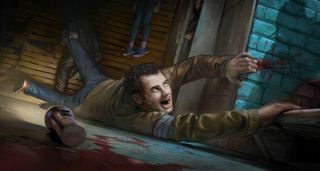 If you think Friday The 13th: The Game won't be enough to quell your massacring urges, well you won't have to fret for long. From developer Behaviour and publisher Starbreeze Games, Dead By Daylight was just announced, following in the footsteps of recent slasher games like the aforementioned Friday The 13th: The Game and the stunning depiction of the essence of slasher horror flicks in Until Dawn.
Since the announcement last week, Dead By Daylight hasn't released a lot of information on the game yet aside from concept art and a developer diary video. Very similar to other slasher horror games, a number of survivors face up to one killer. What's interesting about the gameplay is the killer will play in first-person while the survivors play in third-person.
What's cool about this style of gameplay is in first-person, the killer feels like he knows the environment and can find the survivors faster, whereas in third-person, the survivors must look at their environment from a very careful perspective, in a position of not being familiar with their surroundings. Out of many of the slasher games I've read up on, I haven't seen any use a tactic like this, which does ring true in slasher horror movie flicks. So it almost makes me think this game could be worth trying out. Check out more information from the developer diary video below.
What I like so far about this kind of slasher horror game is it's not like other slasher games coming out, like Last Year, where the game is based on cooperative play in battling the villain. Instead, Dead By Daylight has introduced some very real gameplay dynamics borrowing from important elements of slasher horror flicks. As a survivor in Dead By Daylight, you can choose to work cooperatively with your teammates and, as said in the video, you are rewarded for working together, but it's true that at the end of the day it's about survival and sometimes you might have to put yourself first over your teammates. It dates back to that fantastic battle of morality: Do you go out saving yourself or sacrificing yourself to save someone else? Everyone knows that being a hero in a horror movie gets you nowhere, but it's a decision a survivor will have to make. And that's what makes the outlook of this game great.
I was a huge fan of Until Dawn because it took me back to a time when slasher movies ruled the cinemas, and to follow a game like that is difficult. But maybe Dead By Daylight has it in them. If you want more information, you can check out the official website.
Your Daily Blend of Entertainment News