Dead Island Riptide Images Reveal John Morgan, Town Of Henderson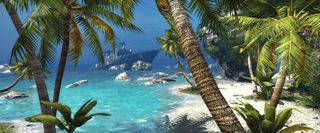 Deep Silver sent out new screenshots and concept art from zombie co-op adventure Dead Island Riptide today. These new assets reveal a fifth playable character for the game as well as one of the key locations.
The four survivors from the first Dead Island will be joined by John Morgan. Morgan is a hand-to-hand combat expert currently employed as a cook in the Navy. His fighting skills will come in handy once his ship arrives at the zombie-infested island of Palanai.
Henderson is a port town in Palanai. Like many of the settlements on the island, it's a luxurious location suited for rich tourists. While it may contain many supplies for the survivors, the town is bound to have a lot of zombies as well. To make matters worse, the streets are flooded due to a monsoon.
The new locations and new playable character are two of the major new features of Riptide. Deep Silver has also mentioned new "hub defense" missions and a dynamic weather system.
Riptide is in development for the PS3, Xbox 360 and PC. Expect it to arrive next April.
Image 1 of 6
Image 2 of 6
Image 3 of 6
Image 4 of 6
Image 5 of 6
Image 6 of 6
Staff Writer at CinemaBlend.
Your Daily Blend of Entertainment News
Thank you for signing up to CinemaBlend. You will receive a verification email shortly.
There was a problem. Please refresh the page and try again.