Dead Island: Riptide Screenshots, Gameplay Details Emerge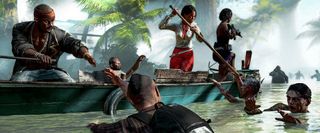 Today Deep Silver provided the first concrete details on Dead Island: Riptide, the follow-up to last fall's open-world zombie game. They've also provided a batch of screenshots showing the new undead menace.
Riptide is a direct sequel to Dead Island. The four survivors from the original game land their escape helicopter on a naval ship, only to learn that it's no safer than the zombie-infested island of Banoi they just fled from. The group heads to the nearby archipelago of Palanai.
Palanai, as you might imagine, is also infested with zombies. A monsoon only makes matters worse. The city of Henderson and its surround jungles have all been flooded and the survivors must use boats to travel around.
The dynamic weather is only one of the new features. A fifth playable character will help the survivors fend off new enemy types. Hub defense missions will task players with setting fortifications like traps and turrets to hold off zombie assaults.
Riptide will arrive on the PS3, Xbox 360 and PC in 2013. Deep Silver previously announced it would cost only $50.
Image 1 of 6
Image 2 of 6
Image 3 of 6
Image 4 of 6
Image 5 of 6
Image 6 of 6
Staff Writer at CinemaBlend.
Your Daily Blend of Entertainment News
Thank you for signing up to CinemaBlend. You will receive a verification email shortly.
There was a problem. Please refresh the page and try again.