Will Dead Space 4 Ever Happen? Here's What Visceral Games Says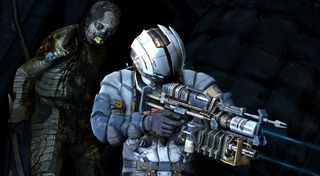 Dead Space has been shelved for a while after the less-than-stellar sales of Dead Space 3. EA had set a pretty high bar for the game and did what they could to help it appeal to as many people as possible by making it "broadly appealing", but it didn't quite work out the way they intended. But is there room for a Dead Space 4 now that the brand has cooled down and there's less chatter about the last outing?
Well, Visceral Games spoke up about the issue and where they stand with a possible sequel for the game. In an interview with GamesTM, Visceral Games general manager Steve Papoutsis stated...
At the moment Visceral Games is still working with EA to wrap up development on Battlefield Hardline. The moden cops-and-robbers shooter hasn't had the easiest of times through the development cycle, seeing a lot of vitriol pointed its way during the summer of 2014 when the first public beta test rolled out and a lot of fans felt it was just a copy-and-paste job from Battlefield 4. Visceral and EA decided to try their hand at the beta again and managed to win over the hearts and minds of gamers when they let loose the Hotwire mode, which consisted of stealing cars and getting them to a specific destination in the map.
The January beta for Hardline turned out to be a pretty big success and it set Visceral and EA back on the proper path for hype and promoting the game with a fairly positive level of anticipation for the first-person shooter.
However, now that people are seeing Battlefield Hardline as a possible success, they're now looking back to see if Visceral will rekindle the flames with the Dead Space franchise that helped put them on the map back in the day. But as Papoutsis notes above, that's very unlikely at the moment.
IGN also notes that Visceral Games – even after they ship Battlefield Hardline on March 17th – still have their hands full. According to the article Visceral will be taking on a new Star Wars game under the EA label now that the software publisher has the rights to the license. Amy Hennig, of Legacy of Kain and Uncharted fame, is creative director for the project.
And if you're wondering if this is Star Wars: Battlefront... no. Apparently DICE and Visceral Games are already hard at work on a couple of titles under the mammoth sci-fi brand. Could it be a revitalized Star Wars 1313? Or maybe a Shadow of the Empire-esque spin-off? We won't know until the time comes to unveil the game.
Of course, the real topic at hand is how soon after the Star Wars titles drop will Visceral be able to get back to making Dead Space games? A lot of that will depend on the success of Battlefield Hardline, the unannounced Star Wars game and EA's financial situation thereafter.
Your Daily Blend of Entertainment News
Staff Writer at CinemaBlend.
Your Daily Blend of Entertainment News
Thank you for signing up to CinemaBlend. You will receive a verification email shortly.
There was a problem. Please refresh the page and try again.