Destiny House Of Wolves Expansion Now Live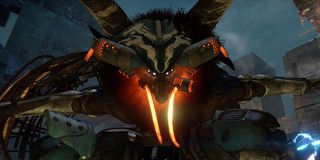 Destiny's House of Wolves expansion pack is now live. The new update brings a range of activities to the multiplayer shooter.
House of Wolves brings players back to the Reef, the asteroid belt between Mars and Jupiter. While there, they'll help the Queen fight the Fallen. They can then team up with other players in a co-op Strike called "The Shadow Thief." This Strike will take players to the Moon and pit them against a Fallen mercenary and his henchmen.
Competitive players can also head to the Crucible for three new maps:
Black Shield – a decommissioned Firebase is believed to have been a key defensive position used by the Cabal when they established their warbase on Mars
Thieves' Den – a Fallen hideout located in the calderas of Venus with precarious drops that offer alternate routes for those willing to risk the fall
Widow's Court – an asymmetrical map with both long sightlines and tight interiors, set in the European Dead Zone on Earth
The PS4 and PS3 versions of the game will also get a fourth Crucible map called Timekeeper. This map is said to take place in a Vex facility built on the surface of Mars. Xbox One and Xbox 360 players will get this map in time but it's exclusive to PlayStation until at least Fall 2015.
House of Wolves doesn't introduce a new raid to the game. Instead, Bungie has created two other end-game challenges for players. In Trials of Osiris, teams of three players face off in elimination matches. Your team can keep facing other squads until you rack up three losses or nine wins. Your final record determines what tier of rewards you can purchase from vendors.
The other brand-new activity is called Prison of Elders. A team of three players will fight waves of increasingly difficult enemies and try to last as long as they can. You can earn new Exotic and Legendary gear by excelling in the Prison.
When they're not killing things, players can spend time at a new social hub set in the Reef. They can acquire new bounties and rewards from the NPCs there. Players can purchase new weapons and armor to help them reach the new Light Level cap of 34.
Your old gear won't be entirely obsolete, though. A new currency called Etheric Light will allow you to improve Legendary and Exotic weapons and armor. Bungie recently expanded player's vaults as well so they'll have somewhere to store their old equipment until they can upgrade it.
House of Wolves can be purchased on its own for $20. If you buy the Destiny Expansion Pass for $35, you'll get access to both Wolves and prior expansion The Dark Below.
Staff Writer at CinemaBlend.
Your Daily Blend of Entertainment News
Thank you for signing up to CinemaBlend. You will receive a verification email shortly.
There was a problem. Please refresh the page and try again.