Destiny House Of Wolves' Trials Of Osiris Is New Crucible Competition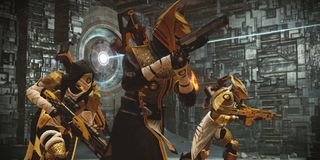 One of the major end-game activities for Destiny's new expansion pack House of Wolves is the PvP event Trials of Osiris. Today Bungie revealed how these weekend Crucible competitions will work.
To participate in the Trials of Osiris, you need to own House of Wolves and have two friends. You can't queue for the 3v3 competition alone because, like raids, it doesn't have matchmaking. If you need a team, you'll have to consult one of those unofficial "looking for group" websites out there.
You'll also need a Trials Passage. This is your team's ticket to compete from Friday to Tuesday of that week. It will expire when your team wins nine times or loses three times. You'll need to purchase a new Passage to compete in next week's competition.
The teams in Trials of Osiris will duke it out in a new 3v3 Elimination mode. This mode is a series of single-spawn rounds with teammate revivals. If you wipe out the enemy team, you win the round. The team that wins five rounds is the winner of the match. Like Iron Banner, Elimination takes your gear's offensive and defensive stats into consideration so this is going to be an activity for more hardcore players.
Your team's performance will determine what kind of rewards you'll get. Once you've completed your current Passage, you'll have access to one of four tiers: Stone (two wins), Bronze (three wins), Silver (six wins), or Gold (eight wins). You can buy gear from your current tier or lower for Glimmer. The rewards for Trials include weapons, armor and Sparrows. You can find a list of possible rewards at this Reddit thread.
This rewards vendor, Brother Vance, also sells consumables to make your new Trials run easier. These are the supplies he offers:
Favor of Osiris: Start the Trials with 1 win.
Mercy of Osiris: Your first Loss will be forgiven.
Boon of Osiris: Winning your first match counts as two.
You can acquire multiple Trials Passages per weekend for another shot at better rewards. There will also be random loot drops at the end of each match, as with normal Crucible.
Data for House of Wolves in a recent patch revealed that the expansion will add a social space called Halls of Amentet in addition to the new Reef hub. The Halls are allegedly tied to the Trials of Osiris but it's unclear how at this time.
The other major end-game activity in House of Wolves is called Prison of the Elders. Elders, a cooperative battle arena, will be shown off next week by Bungie. Prison and Trials are being added to the game instead of a new raid. However, Bungie promises that they'll be introducing another raid to the game later in 2015.
Your Daily Blend of Entertainment News
Staff Writer at CinemaBlend.
Your Daily Blend of Entertainment News
Thank you for signing up to CinemaBlend. You will receive a verification email shortly.
There was a problem. Please refresh the page and try again.