Destiny House Of Wolves Trailer Confirms Release Date, Reef Setting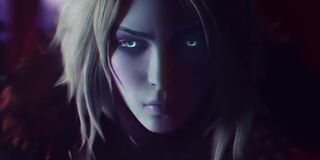 Bungie finally shared some details on Destiny's second expansion House of Wolves today. The first trailer for the DLC revealed the release date and general storyline.
Just as previous expansion pack The Dark Below focused on the Hive, House of Wolves is based around another enemy faction: the Fallen. Players will help the Queen of the Awoken in defeating the Fallen that once lived peacefully with them.
"When the Fallen sought to destroy us, I protected the Reef," the Queen says in the voiceover for the trailer. "In the end, they all bowed before me. We showed them mercy and offered them a home amongst the Awoken. They met that mercy with betrayal. Now, they will feel my wrath. Open the Reef to the Guardians. Offer the riches of our realm as bounty for these traitors."
A rumor from earlier this year suggested that House of Wolves would introduce a new social hub set in the Reef. That seems more plausible in light of today's announcement. I'm not sure the game really needs a social hub - there's plenty of room for dancing in the Tower - but I guess having all the new vendors and NPCs in one place will make it easier for players to access the new activities.
The trailer states that House of Wolves will launch in May. In a follow-up post on their website, Bungie said the specific release date is May 19th. During the same post, they also promised to roll out more information on the expansion in the coming weeks.
"Over the course of the next month, we'll be pulling the wraps off of all the new activities, modes, events, and gear you'll have access to. Stay tuned to see exactly where your legend is headed next."
Before House of Wolves arrives, Bungie will release Update 1.1.2 for Destiny. This patch will give players larger vaults so they'll have room for the extra loot coming in Wolves. The patch will also add new video and audio options, change ammo spawns in the Crucible, and fix some issues with Raids and Strikes.
Bungie hasn't announced a firm release date for Update 1.1.2 yet. However, they did estimate earlier this month that it would go live this week. Whether or not that happens probably depends on how well their private test went this weekend:
Your Daily Blend of Entertainment News
Staff Writer at CinemaBlend.
Your Daily Blend of Entertainment News
Thank you for signing up to CinemaBlend. You will receive a verification email shortly.
There was a problem. Please refresh the page and try again.