Destiny Player Gets Real-Life Loot From Fiancee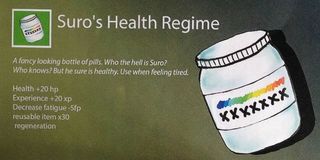 Destiny players weren't able to log into the game on Christmas Day. However, one of these players still managed to score some impressive loot on that day thanks to his creative fiancee.
"My real life Christmas loot from my fiancée is better than the loot I get in Destiny. Top that Cryptarch!!!" Reddit user bulletchocolate said in his post.
His fiancee gave him several gifts along with printed loot windows like you'd see with in-game Destiny items. Each gift had a Destiny-like name and flavor text. For example, she called a box of Starbucks Caffe Mocha "The Starbucks Protocol":
A package of Twinkie-like treats, meanwhile, were dubbed "Cakebringer":
One of the t-shirts she made, Heart of Fiancee's Order, came with the longest and funniest flavor text of the bunch:
You can see the full collection of gifts in the image gallery below.
While not every Destiny player is lucky enough to receive such thoughtful gifts, the entire community will be receiving in-game presents soon. Bungie had planned to give out Christmas gifts but delayed them due to the DDoS attacks on PSN and Xbox Live. They shouldn't be far off now that both networks have been restored, though,
Staff Writer at CinemaBlend.
Your Daily Blend of Entertainment News
Thank you for signing up to CinemaBlend. You will receive a verification email shortly.
There was a problem. Please refresh the page and try again.