Destiny Players Will Get Christmas Gifts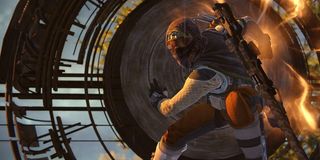 Bungie has a holiday surprise planned for Destiny players. The studio says that they'll be giving out gifts to the community to show their appreciation.
"Before we kick off, we should note that you should be on the lookout for some small stocking stuffers sometime after the Holidays have come and gone – a small token of our gratitude," Bungie said in their last Weekly Update of the year.
They don't mention what these gifts are exactly. However, they included this picture of the Cryptarch holding a gift-wrapped Engram. Don't be surprised, then, if Engrams are the stocking stuffers in question:
Bungie didn't announce any special events planned for the holidays. Iron Banner has been underway since earlier this week but will wrap up in a few days. Destiny players won't be getting gingerbread masks and ugly sweaters like the GTA 5 community, it seems.
Bungie asked players to go on easy on "Christmas Noobs" who will be joining Destiny over the holidays after receiving the game as a gift.
"They'll show up in the Crucible – lost, confused, and freshly minted as Level Fives. They'll arrive on the forum where you're sort of a big deal, asking questions you discovered the answers to a long time ago."
"Take them under your wing. Show them the way. They'll learn a lot from you. Try not to laugh too hard when they lodge their first, adorable complaint about our old friend Rahool."
As part of the Weekly Update, they also looked back on 2014 and the game's first three months. They revealed that over 12.8 million players have "taken Destiny for a spin" - a total that probably includes the full game owners as well as free trial players. The community has created over 22.9 million characters and played a collective 872 million hours.
Many of those players have been diving into the end-game Raids. Atheon, the last boss of Vault of Glass, has been defeated over 2.4 million times to date. Bungie notes that "at least a dozen of those kills were without cheese," a reference to the popular strategy of knocking the boss off a ledge. Crota, the last boss of Crota's End, has been defeated 769 times since that raid's debut on December 9th with The Dark Below.
"But only once by a Fireteam of one (step it up, everyone else)," Bungie added. You can check out that solo clear of Crota's End here.
Staff Writer at CinemaBlend.
Your Daily Blend of Entertainment News
Thank you for signing up to CinemaBlend. You will receive a verification email shortly.
There was a problem. Please refresh the page and try again.