Destiny The Taken King Expansion Outed Again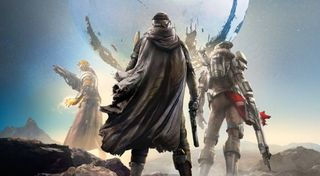 Destiny's newest expansion pack, The House of Wolves, received a heck of a lot of media spotlight leading up to its release. There were all sorts of theories and leaks and rumors circulating around Bungie's next big outing for the sci-fi shooter. Well, prepare to go on that journey all over again as the latest rumors have kicked into high gear after Red Bull boxes surfaced showing that the next expansion for Destiny could be called The Taken King.
Game Informer did some investigating into another photo that has leaked featuring Red Bull boxes that are apparently part of an upcoming marketing campaign in collaboration with Activision for the game. The boxes featured a promo about redeeming codes inside to earn extra experience points and an "Epic Quest" in Destiny: The Taken King.
This isn't the first time we've heard this title. Bungie apparently copyrighted The Taken King last month. The logo accompanying the copyright application suggested the expansion would be centered around The Hive.
There's a lot of anticipation for this possible expansion. That might be because the newest DLC for the game, House of Wolves, lacks an actual raid campaign. The raids help give the game a bit of extra life and some reasons for players to keep leveling up and playing the game. In the previous expansion, The Dark Below, Bungie added Crota's End, a lengthy and difficult multi-part raid into a deep cave that required a lot of skill and teamwork.
There was also a lot of YouTube videos that popped up centered around Crota's End, where players offered advice, leveling tips and even some exploits on how to overcome the entire run solo. Some people even managed to get good enough to run Crota's End not firing weapons or performing all sorts of other ridiculous stipulations to make things more interesting.
In the case of Bungie's latest House of Wolves expansion, there is more of a focus on scheduled events like the Trials of Osiris, a multiplayer PvP showdown where players can earn rewards that go toward unlocking new loot. There are also some challenge missions and whatnot, but nothing to the degree of Crota's End.
With a name like The Taken King, it's not hard to imagine that there might be a lengthy dungeon attached to it and an explosion of YouTube videos to follow. Of course, Activision isn't saying anything right now and Bungie is still keeping mum about the whole thing.
If The Taken King isn't an expansion pack then someone went through an awful lot of trouble to manufacture some fake news. If it is a real expansion pack then Activision and Bungie will likely want to keep this bit of Destiny news under wraps for as long as possible.
The likelihood is that the new expansion will probably arrive some time at the end of summer or early fall to coincide with the huge surge of marketing and sales that occur leading up to the big holiday rush. Of course, that's just speculation. For now The Taken King is just a rumor in the wind.
Your Daily Blend of Entertainment News
Staff Writer at CinemaBlend.