Destiny: The Taken King Expansion Might Bring Back The Hive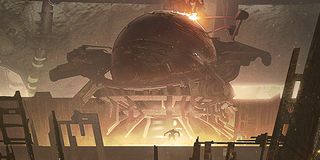 Destiny's big fall expansion pack seems to have received its official title. Bungie just filed a trademark for the title The Taken King.
The trademark filing for The Taken King applies to "Downloadable video games via the internet and wireless devices; Electronic game software for cellular telephones; Electronic game software for handheld electronic devices; Electronic game software for wireless devices; Game software; Interactive game programs; Interactive video game programs; Video game software." The mobile trademark is probably intended to stop someone from releasing a cheap cash-in game on App Store with the same name.
This filing also reveals the logo for The Taken King: a red V with a criss-cross pattern above it. Check it out:
It's just as cryptic as the logos for Destiny expansion packs The Dark Below and House of Wolves. As one NeoGAF user points out, though, the Taken King logo looks a bit like the Hive's symbol:
If this expansion focuses on the Hive, the titular king could be Oryx. Oryx is believed to be the master of all the Hive. Players haven't encountered him yet but did destroy one of his shrines in the Destiny campaign. They also killed one of his creations, Crota, at the end of The Dark Below's raid.
The first rumors of Destiny's third expansion suggested it would be called Comet: Plague of Darkness, which - let's face it - was a crappy title. This early report said it was a huge piece of DLC, too, with 12 new story missions, four strikes, six Crucible maps and a new raid. Bungie, for their part, has only confirmed that Expansion 3 will be coming this fall.
Oh, and lest you think The Taken King's trademark is just a hoax, take a look at the name of the attorney who filed it. It's Jim Charne, who also handled the trademarks for The Dark Below and House of Wolves.
Destiny players will have a different expansion to occupy their time while they wait for Taken King. House of Wolves will be launching later this month on all platforms. Wolves takes players back to the Reef for new story missions. It also introduces two new end-game activities: the weekend Crucible competition Trials of Osiris and co-op challenge Prison of the Elders. The new expansion won't, however, add a new raid.
Staff Writer at CinemaBlend.
Your Daily Blend of Entertainment News
Thank you for signing up to CinemaBlend. You will receive a verification email shortly.
There was a problem. Please refresh the page and try again.