Destiny's Iron Banner Returns This Week With Major Changes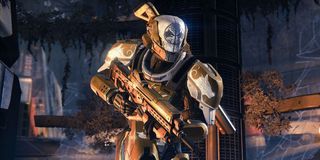 Bungie will be bringing back the Iron Banner event for Destiny this week. However, it won't be the same Iron Banner you're used to.
Iron Banner, returning on June 2nd, has been tweaked in a couple ways to make progression quicker. Lower-ranked Guardians on your account will get a reputation boost so they can easily catch up to the higher-ranked characters. Rewards, meanwhile, cost less Glimmer across the board so you can save it for other purchases.
Destiny's expansion pack House of Wolves added Etheric Light, a currency that can boost weapons to 365 Attack and armor to 42 Light. You can even use this on gear from old content to make it relevant again. Players can acquire it from the Weekly Nightfall Strike, the Prison of Elders, or Trials of Osiris. However, starting this week, you can buy it through the Iron Banner vendor as well.
While the revised Iron Banner makes progression easier, it also makes that progression more important. Bungie says that they've increased the weighting on your gear in Iron Banner "a little more" so someone with superior equipment will have an easier time against the competition.
One appealing feature of Iron Banner is that it gives players the opportunity to reforge their weapons. When reforged, weapons' perks can be re-rolled in exchange for resetting their progression and paying a fee. However, as Bungie notes, Lord Saladin isn't the only NPC who can reforge now. The Gunsmith at the Tower can now do so with House of Wolves weapons.
The last big change to Iron Banner coming this week is the map rotation. "Pantheon" and "The Cauldron" from The Dark Below will now be part of the event's playlist. PS4 and PS3 owners will also be able to play their exclusive map "Exodus Blue" in Iron Banner as well.
By playing Iron Banner, you earn ranks with the Iron Lords and get access to exclusive rewards. Bungie says that the latest set of rewards will include Boots, Gauntlets, Fusion Rifles, and Scout Rifles.
This will be the first run of Iron Banner since House of Wolves' launch. Wolves, the second expansion to the game, introduced a new set of story missions along with a cooperative Strike. The Trials of Osiris are a weekend-only PvP challenge for teams of three. The other big addition is the Prison of Elders, a co-op arena challenge. These new challenges can be accessed from a new social hub at the Reef. The expansion also introduced a slew of new loot for all these activities.
Your Daily Blend of Entertainment News
Staff Writer at CinemaBlend.