Destiny Voice Chat Beta Starts Next Week, Here's How It Works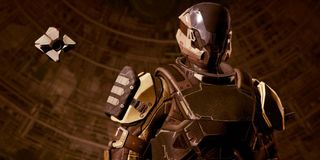 Communication between Destiny players is about to get much easier. Bungie announced that they're about to start the beta test for expanded voice chat.
Players have already been able to talk to players in their premade group through Fireteam Chat. Patch 1.0.3, expected on November 18th, will add a new option: Team Chat. Team Chat will allow players to chat with each other in activities that involve matchmaking such as Strikes and Crucible matches.
"Upon landing in an activity where opt-in voice is enabled, you'll receive a notification that says Team voice chat now available. Look to the lower left of your screen for the prompt," Bungie said on their website. "When a player accesses the channel, you'll see a prompt that says [Player] has entered the Team voice channel. That's your invitation to join them."
Bungie limited voice chat at launch because they were concerned about players griefing each other. That's still a worry so the game will let players control whether or not they use Team Chat. Manual joining is the default setting. If you find yourself using voice chat a lot, you can choose the "Automatic Opt-in When Solo" through the game's settings.
"Of course, Bungie cannot guarantee the quality of the teammates we'll match you with in Destiny. If that were the case, none of these filters would be necessary! In the event that you encounter a player who is toxic to your experience, simply revert back to Fireteam Chat or use your console-specific interface to Mute or Report them."
You can access Team Chat at any time by deploying your Ghost. This screen allows you to make any changes to your settings.
"To deactivate the public option and retreat to a more private corner with friends who have joined your Fireteam, just revert back to Fireteam Chat using the same Navigation Mode menu. At any time, the channel you're using will be displayed in the lower right. You can always toggle between channels using the highlighted directional buttons."
You may run into some problems in accessing this feature. If you're using a console-specific party chat feature, that could interfere with Team Chat in Destiny. The network settings on your console may also be to blame.
Again, this is a beta so Bungie wants your feedback on the feature. If you have any opinions, they encourage you to share them at their forum.
"It is our hope that this new feature exposes you to people who will enhance your experience. Destiny was envisioned as a game that will bring players together for surprise encounters. With the right options in play, those moments can lead to friendships and alliances that will serve you for years to come!"
Expanded voice chat is one of many changes coming to Destiny in the next few weeks. This series of updates will be followed by the launch of first expansion The Dark Below in early December.
Your Daily Blend of Entertainment News
Staff Writer at CinemaBlend.
Your Daily Blend of Entertainment News
Thank you for signing up to CinemaBlend. You will receive a verification email shortly.
There was a problem. Please refresh the page and try again.