Devil's Third Launching On Xbox 360 And PS3 In 2014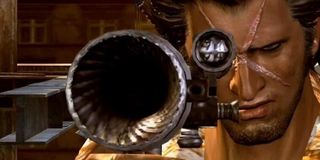 Tomonobu Itagaki's next game Devil's Third is almost complete. The designer says that his long-delayed project should be launching on PS3 and Xbox 360 in 2014.
"Next year will be the year we'll be releasing the console game, Devil's Third. At the moment, it is about 80% complete, and we can about see the end of it," Itagaki told 4gamer (via Siliconera). "However, there's still a little more polishing that needs to be done. That's also one of the reasons I've decided to work independently."
Itagaki added: "For you fans out there, I'd like to apologize for making you worry. We'll be going all out next year, so please look forward to it."
In Devil's Third, satellites colliding above Earth begin a domino effect that wipes out all other satellites in orbit. The subsequent chaos on Earth leads to a world war. The player is a warrior in the middle of this conflict, running into battle with guns and swords at the ready. The first trailer from E3 2010 revealed that players will have parkour skills as well:
Itagaki was the creator of the Dead or Alive series as well as the Ninja Gaiden reboot. He left Team Ninja in 2008 because owner Tecmo allegedly withheld bonus money from him. He founded Valhalla Game Studios afterward with other former Team Ninja employees. Devil's Third is their first project.
Devil's Third was once slated for a 2012 release. However, publisher THQ dropped the project due to their financial issues. They then returned the rights to Third to Valhalla so they can do what they wish with the series. It's not clear if Valhalla has found a new publisher.
The game was being built with the Phoenix Engine, the tech that powered other THQ hack-and-slash games like Darksiders 2 and Warhammer 40,000: Space Marine. We don't know if that's still the case, though. If this game's really coming out in 2014, this and other questions should be answered soon, though.
Image 1 of 4
Your Daily Blend of Entertainment News
Staff Writer at CinemaBlend.
Your Daily Blend of Entertainment News
Thank you for signing up to CinemaBlend. You will receive a verification email shortly.
There was a problem. Please refresh the page and try again.