Diablo 3 Xbox One And PS4 Reviews: Does The Ultimate Evil Edition Live Up To Its Name?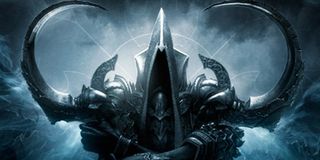 Diablo 3 will make its Xbox One and PS4 debut next week. However, the first reviews for this "Ultimate Evil Edition" have already started to hit the web. So, what did critics think of the game?
Diablo 3: Ultimate Evil Edition includes the base game along with its expansion pack Reaper of Souls. The early reviews praised the expansion's content, especially the Adventure Mode. Adventure Mode, unlocked after beating the final boss, allows players to freely explore the game world and complete randomized dungeons and quests. Many reviewers consider this mode a fulfilling endgame activity - something the base game lacked.
The new multiplayer features introduced in the Ultimate Evil Edition were also a hit with the reviewers. They complimented the Apprentice Mode, which allows low-level and high-level characters play alongside each other, and the Nemesis system, which lets a named monster wreak havoc in your game and your friend's. Smaller features like an in-game mail and player gifts were appreciated as well.
This new content, along with previous console-specific features like gamepad controls and local co-op, led many reviewers to dub the Ultimate Evil Edition the best version of Diablo 3. The promise of post-launch support by Blizzard makes that claim seems plausible.
There's some disagreement over whether the game's worth a purchase if you already own the normal version of Diablo 3 on PS3 and Xbox 360, though. The value of a purchase is even more questionable if you already own D3 and Reaper of Souls on PC.
Here are excerpts from a few reviews of the Ultimate Evil Edition. Most of the published reviews thus far are from the PS4 and Xbox One versions but should mostly apply to the PS3 and Xbox 360 versions as well:
GamePlanet - "Diablo III: Reaper of Souls Ultimate Evil Edition works very well on PlayStation 4. It doesn't push the system particularly hard, but it skips along at 60fps and native 1080p without ever missing a beat - which is much appreciated after the frequent screen tearing of the original Diablo III on console."
Gaming-Age - "There's a significant amount of content to check out, and new gear to obtain, that you'll likely spend dozens if not hundreds of hours hooked to the game."
TotalXbox - "You're also doing yourself a disservice if you don't play with mates - two of you either in local play or online is roaring fun. It can get a bit hectic with four players on one screen, however, and it's easy to lose who's who in the dazzling array of light effects. We're happy to say the Xbox One version holds up remarkably well, with only one or two frame drops when there's more light effects than at a Pitbull concert."
Canadian Online Gamers - "With its action packed dungeon diving, very engaging loot system and allowing you the ability to sit down and play with friends on your couch as well as playing online, this game chewed up entire days of my life before I realized I hadn't eaten in 27 hours (sadly, true story). Although it did have some drawbacks with its rather linear storyline and the somewhat repetitive button mashing it is still going to be one of the most fun times you have slaying demons with a friend this year."
Gaming Nexus - "After the 'core' adventure, you do get another chapter which was created for the expansion. This new chapter will only add a few short hours to your campaign and really just serves to extend the story and lore of the game world. As interesting as the campaign is as a whole, that isn't the focus of the D3 experience here; you're here for the adventure and to hunt down that elusive, legendary loot. You will do a bit of that in the campaign, but it is afterwards that the gamereally opens up and the game reaches its true potential."
Your Daily Blend of Entertainment News
Staff Writer at CinemaBlend.
Your Daily Blend of Entertainment News
Thank you for signing up to CinemaBlend. You will receive a verification email shortly.
There was a problem. Please refresh the page and try again.