Dieselstormers Brings 4-Player Co-op Action To Kickstarter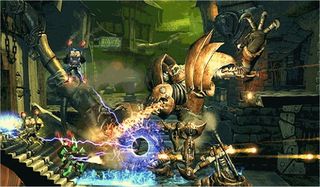 Looking for a side-scrolling, four-player cooperative title with customizable weapons, incessant violence and physics-based destruction? Well, look no further than Black Forest Games' Diselstormers.
Previously, this game was known as Ravensdale and had a Kickstarter goal of $500,000. Things didn't quite work out so well, despite the fact that the idea for the game seemed pretty cool and a lot of gamers love diesel-punk themed titles. Sadly, the Kickstarter just couldn't pick up the proper traction it needed.
Black Forest modified their idea, tweaked the campaign and rolled out a more streamlined looking game that still seems like it's definitely worth playing. Also, they seem to have tightened up the name to something a bit grittier and more reflective of the world. Dieselstormers sounds kind of badass and the whole plot surrounding humans being turned into dangerous orcs and players having to go on a suicide mission to stop them is actually pretty cool.
Another thing worth talking about is the weapon customization. I can't think of another 3D side-scrolling game that has weapon customization like this. Of course, it's very similar to Tribute Games' Mercenary Kings, but more games designed with that style of a weapon modification system is most definitely a good thing.
In addition to being able to craft and modify your own weapons, there's also procedural level generation. This ensures that the game is practically infinitely replayable. Whether or not it actually is infinitely replayable will depend on how fun the gameplay is and how challenging the overall structure of the platforming mechanics work, but I like the concept a ton.
For those of you worried about whether or not Dieselstormers is legit, take note that Black Forest Games had previously run a successful campaign for their title Giana Sisters: Twisted Dreams, which was not only crowd-funded but also made it through the Greenlight process.
More cooperative, side-scrolling, platforming-shooting games is definitely a good thing. I would love to see more games of this kind. There's also a playable prototype of the game available for download right from the Kickstarter page. So if you want to play the game, feel free to do so by downloading the prototype demo right here.
If you like what Dieselstormers has to offer and you want to see Black Forest Games' title brought into existence, feel free to show some love and support for the game by paying a visit to the official Kickstarter page.
Staff Writer at CinemaBlend.
Your Daily Blend of Entertainment News
Thank you for signing up to CinemaBlend. You will receive a verification email shortly.
There was a problem. Please refresh the page and try again.