Dragon Academy Launches Tomorrow For iOS, Android, Facebook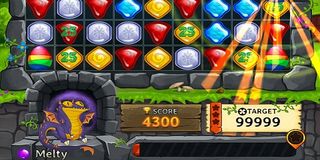 Dragon Academy, the latest match-three puzzle game to hit the interwebs, is set to launch tomorrow via iOS, Android and Facebook, offering up traditional gem busting gameplay with a side order of RPG progression. It certainly does seem as if many newer mobile titles have begun branching out and experimenting with adding in additional gameplay elements that dabbles in different genres and it's a welcome venture.
Coming from Team Chaos and Andrew Busey, recent VP and GM of Zynga Austin, Dragon Academy is a free character-based puzzle game offering a total of six dragons to evolve while matching gems (a la Bejeweled)in order to thwart the evil Wobblins who are trying to steal your eggs. By "character-based," I mean each dragon evolves and grows stronger as you play the game, giving the player more to focus on than simply wracking up the highest score.
According to Buesy, it's this mix of genres that he and Team Chaos hope will drive players to dive into their game and stay involved.
"We believe players will have a great time with Dragon Academy because we combine what players love most: a match-three game with unique characters—dragons—each with great personalities and unique abilities," Busey said. "We've built in a lot of levels and variety and, most importantly, we are one of the first games to be completely cross-platform on day one."
Buesy was referencing Drgaon Academy's use of Facebook as a unifying profile for players. No matter which version of the game you're playing, iOS and Android included, so long as you register with your Facebook account, you'll be able to play the game across any number of devices and pick up right where you left off on the previous device. So you could play a few levels through Facebook before heading off to work, then continue your adventure on your iPhone on the bus ride to the office. Later, you can borrow your friend's Android and keep right on trucking. Why are you borrowing your friend's Android phone when we've already established that you own an iPhone of your own? I have no idea. You do odd things sometimes.
Dragon Academy features six main characters, all dragons with their own unique abilities. These winged beasts consume mystic runes, which are produced when you break gems within the game. More than 150 levels are spread across 13 worlds, with players able to unlock new challenges and power-ups as they go along. As you gain more experience for your dragons, they'll grow bigger and unlock new abilities, too.
When you start playing the game, three dragons will be available right out of the gate, including Melty (acid), Emma (poison) and Shimmer (sonic boom). The remaining dragons will be available as in-app purchases, including Frosty (snowstorm), Thunderlina (lightning) and Pokey (fire).
Dragon Academy will be available starting tomorrow across all three platforms. For more information on the game, visit the official website. That's also where you'll find handy links to all three versions of the game once they go love tomorrow.
Your Daily Blend of Entertainment News
Staff Writer for CinemaBlend.