Bejeweled Brings Lightning Mode To iThings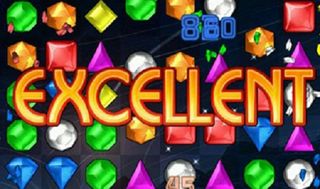 Once in a great while, something comes along that completely reinvents the world of video games. Moments like these change the face of the entire industry, creating a bigger and brighter future for fans of digital entertainment. Today is one such day, as PopCap Games has announced the latest expansion for Bejeweled (iPhone) and Bejeweled HD (iPad). Get ready for…Lightning Mode!
Okay, fine, so a beat the clock mode in a jewel matching game isn't all that revolutionary. But it's Bejeweled, man. Bejeweled!
If you're up to date on the PC front, then Lightning Mode is something you're likely already familiar with. Joining Classic, Butterflies, Diamond Mine and Zen, Lightning Mode rounds out the number of ways to play one of the most addictive games of all time at an even five, tasking players with racking up as many points as they can by the time the clock reaches zero.
Yeah, you've seen something similar a million times before, but not until now has it been available in Bejeweled for your various iDevices. The Lightening Mode update is free for existing users and available now. If Zen mode is too low key for your liking, then this is your opportunity to take the game in a completely different direction, swapping a laid back pace for all-out, frantic gem swiping in a race to snack big-big points.
You'll also be able to earn new Bejeweled badges, as well as post your scores to Game Center leaderboards to see how you stack up against the rest of the world.
If you don't already have Bejeweled, you can pick it up for your iPhone right here (opens in new tab) and your iPad right here (opens in new tab).
Staff Writer for CinemaBlend.
Your Daily Blend of Entertainment News
Thank you for signing up to CinemaBlend. You will receive a verification email shortly.
There was a problem. Please refresh the page and try again.