Dragon Ball Xenoverse Season Pass Includes These DLC Packs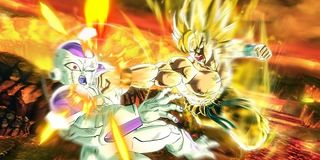 Dragon Ball Xenoverse is set to have its power level go above 9,000 with post-launch content, including a season pass that crams in three packs of extra characters and missions for players to kick, punch and Spirit Ball their way through.
Barreling towards its Feb. 24 launch on Xbox One, Xbox 360, PlayStation 4, PS3 and Steam, Dragon Ball Xenoverse spans much of the popular manga/anime series' history, this time told through an open world. You'll be able to create your own character in Xenoverse, then have them wage war on various alien races on land, in the air and even under water. While the world and characters will be familiar to series fans, the story is completely original and will likely have the fate of the world or universe or something resting on your charged-up shoulders.
The Dragon Ball franchise has been around for about two decades, spawning a couple dozen games in that time. Those games typically revolve around the show's main activity: Fighting; though the occasional oddball spinoff or light RPG has been known to pop up from time to time.
Xenoverse looks to be the most ambitious of the titles by far, giving players the chance to explore an open world and compete in online battles like never before. If you've ever wanted to fly around as Goku in a semi-MMO setting, this looks to be your chance.
Bandai Namco and Dimps today announced a couple of new characters will be joining the game's already huge cast, including Omega Shenron and Gogeta SS4 from the Dragon Ball GT universe. On top of that, the publisher has also pulled back the curtain on plans for a season pass, currently including three bundles of content.
DLC Pack 1, set to launch sometime in March, will include three new playable characters, GT Goku, Pan and GT Trunks. An additional four Time Patrol quests will be thrown into the mix, along with 12 new quests, 15 special moves and five additional costumes for you to equip to your personal character.
DLC Pack 2 and 3 will include more of the same Dragon Ball goodness, though specific details on which characters and how many new quests, etc. you can expect have not yet been revealed. No word on release dates for those last two DLC packs, either.
You'll be able to buy these packs for $9.99 apiece, or enjoy the lot of them for a slight discount at $24.99 for the season pass.
Staff Writer for CinemaBlend.
Your Daily Blend of Entertainment News
Thank you for signing up to CinemaBlend. You will receive a verification email shortly.
There was a problem. Please refresh the page and try again.