Dragon Ball Z Fighter Hitting 3DS With Over 100 Characters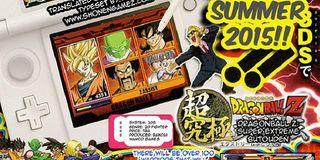 The latest Dragon Ball Z game hasn't even shipped yet and already we're getting word that another fighter based on the hugely popular series, Dragon Ball Z Super Extreme Butouden, is coming down the pipeline. What sets this new challenger apart from the rest? It's being made for the 3DS and it has a cast of more than 100 characters.
You read that right; more than 100 characters. Given that the game will boast both fighters and support characters, there's a pretty good chance that a nice chunk of that cast won't actually be playable but, still, they're planning to cram 100 Dragon Ball Z characters into a single 3DS fighting game, so that's got to get fans of the series pretty excited right off the bat.
This news comes to us via Crunchyroll, who recently posted a translated add from the current copy of Weekly Shonen Jump magazine. For those unfamiliar with the magazine, it's the one featuring manga like DBZ, Bleach, One Piece and Naruto that all of those fan-favorite anime are based on.
The advertisement has quite a bit of information crammed into a single spread, including the fact that Super Extreme Butouden is being developed by the folks at Arc System Works. If that name sounds familiar, it's because they are the hugely talented team responsible for all of the BlazBlue and Guilty Gear games, as well as the spinoff fighter, Persona 4 Arena. In other words, they know how to do fantastic 2D fighters. While I won't pretend that I wouldn't rather see this new game pop up on a system better suited to the genre, I'd take an Arc System Works DBZ fighter on the SNES, if that's the only place I could get it.
Along with a massive cast, Super Extreme Butouden will feature 1v1 and group battles, as well as super moves for each of the game's fighters. Each fighter on the roster will also have their own fighting stage, where they can perform an extra set of special moves. Finally, characters like Bulma and Chichi will finally make their way into a DBZ fighter, even if it is only as support characters. Bulma will throw various capsules to trigger in-game effects while Chichi will bound onto the screen and pulverize enemies with her boundless rage.
Super Extreme Butouden is quite a bit removed from the most recent game in the series, Battle of Z, which was a Hunter-esque take on the story with groups of players teaming up to fight enemies all at once. The latest DBZ game, Xenoverse, is actually set to launch next week, featuring a hub world, customizable characters, a cast of around 40 brawlers and big, open maps that allow for 3D combat.
As for Super Extreme Butouden, the game is slated for release in Japan sometime this summer. Being published by Bandai Namco, here's hoping that we soon get word on a Western release sometime in the near future.
Your Daily Blend of Entertainment News
Staff Writer for CinemaBlend.