Dream Drops MMO Is Like The PC Version Of Kingdom Hearts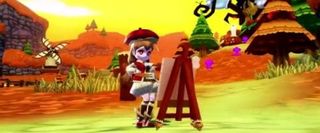 I'm not sure why we don't get more games like this but Gamania Digital Entertainment just might make a fan out of me, yet. The company's newest free-to-play MMO is a crossover RPG that sees JRPG story elements and characters intertwining with classic fairytale worlds and characters, much like Kingdom Hearts.
To make matters more interesting, the game has done away with the typical click-and-grind mechanics and has instead infused a more whimsical, combat approach to Dream Drops, almost similar to…Kingdom Hearts.
As stated in the press release…
What's more is that players will take control of a character named Sophie, who uses a magical paintbrush to create, change, alter and ultimate defeat the twisted creatures in the alternate fairytale world. The Sophie character reminds me of Relm from Final Fantasy VI and when you see the trailer you'll know why. It's kind of an awesome concept that plays out even better thanks to the colorful and vibrant art-style lying at the core of the game.
If you've been looking for an adventurous alternative to Kingdom Hearts it looks like you just might get what you're looking for in Dream Drops. A new Japanese video was also released for the game to give you a slight idea of what the gameplay mechanics and story is like. I'm just curious how the whole multiplayer aspect will work in this game.
You can keep updated on Dream Drops by paying a visit to the Official Website. We'll also be sure to keep you posted on when the game heads into beta testing.
Your Daily Blend of Entertainment News
Staff Writer at CinemaBlend.