Dynasty Warriors Online Heavenly Strike Update Goes Live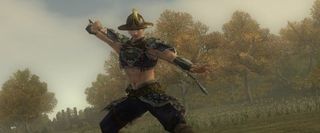 Aeria Games and Tecmo Koei have released a massive new update for Dynasty Warriors Online, which includes a brand new neutral city, a new faction featuring LuBu, a new lieutenant, a new plot scenario and a new tournament mode.
Gamers who enjoyed the kickbutt antics of the infamous LuBu can now join his faction as one of the rogue agents of war. To accompany gamers into battle a new lieutenant elephant has also been added which can either be used as a fighting companion or as a mount. Pretty cool, eh?
One of the better parts of the new update in the Heavenly Strike patch is the Musuo Tournament mode and the neutral trading city Peach Tree Garden Town. In the tournament mode players can team up together and battle other opponents for prestige and honor in PvP matches without instances or objectives to worry about. The Peach Tree Garden Town allows all players from every faction to meet and trade, exchange war stories or setup battles, no matter which side they're on.
You can learn more about the new update or start playing the game for free by visiting the Official Dynasty Warriors Online Website.
Staff Writer at CinemaBlend.
Your Daily Blend of Entertainment News
Thank you for signing up to CinemaBlend. You will receive a verification email shortly.
There was a problem. Please refresh the page and try again.