EA Removes Patrick Kane From NHL 16 Cover Due To Criminal Investigation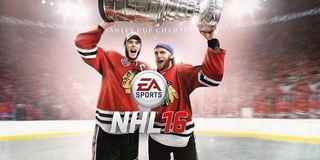 EA sports has released a statement explaining that Patrick Kane will no longer appear on the cover of NHL 16, as the Chicago Blackhawks player is currently under investigation for sexual assault.
It was announced earlier this year that Kane would appear alongside teammate Jonathan Toews on the cover of NHL 16. That wasn't a surprising pull, as the duo helped lead the Blackhawks through a season that resulted in a 2015 Stanley Cup victory.
According to a recent tweet from EA Sports, however, Kane is being cut from the cover due to a criminal investigation:
As unsurprising as the original announcement was that Kane would be featured on the box art for NHL 16, this new announcement that he's getting the axe is just as expected. Kane was recently accused of sexual assault and, at the moment, those accusations are being looked into by the authorities. Regardless of the outcome of the investigation, that's not the kind of publicity you want tied to your game. EA's hands were basically tied in the matter.
I'd like to say that the follow-up conversation on twitter offered some valuable opinions on the matter, but this is definitely one of those instances when you'd be best served by avoiding the comments entirely. Outside of a few comparisons to the NFL's Michael Vick and his dog fighting scandal, the banter quickly devolves into unsavory territory wherein folks make some pretty upsetting comments in regards to a sensitive situation that, at the moment, is still more questions than answers.
The accusation and subsequent investigation began late last week and, at this point, all we know is that Kane's home has been searched. A breakdown of the events so far can be found over on Deadspin. According to the report, a woman has stated that Kane met her at a bar before returning to his home, where he then raped her. Again, it's a sensitive matter, so it's not too surprising that the parties involved are taking their time and making sure they have all the facts straight before releasing any further information.
We assume that, if the worst is true, EA will follow Kane's removal from the cover with a full removal from the game itself.
Staff Writer for CinemaBlend.
Your Daily Blend of Entertainment News
Thank you for signing up to CinemaBlend. You will receive a verification email shortly.
There was a problem. Please refresh the page and try again.