EA Will Lose Millions Thanks To This Lawsuit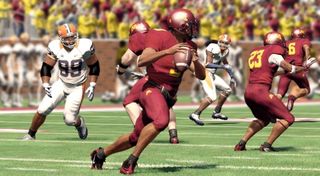 News has been running rampant about the recent lawsuit settlement involving the NCAA sports league and Electronic Arts. Both organizations have been hit with a massive lawsuit fine of up to $60 million, with players requiring a sizable payout by this September.
Polygon is reporting that two different settlements involving fair treatment to the players in both football and basketball games on the collegiate level.
EA, the Collegiate Licensing Company, and the NCAA were each hit with massive settlement fines, with EA and the CLC agreeing to a $40 million settlement for the players of the NCAA, where their likenesses were used without permission for years in the EA Sports NCAA annual game series.
According to Bleacher Report, the ongoing lawsuit has seen the NCAA annual series brought to a halt from under the EA Sports label since 2013. I'm sure EA is probably seething that one of their key franchises has been shelved thanks to the ongoing court case involving using the players' likenesses without compensation.
Steve Berman, a managing partner at Hagens Berman Sobol Shapiro, issued a statement to Polygon stating...
This has been an ongoing issue and something many of the students obviously weren't pleased with. While it's easy to understand that some of them were likely flattered that they were appearing in a popular, annual sports franchise from one of the biggest publishers on the planet, they were still having their likenesses used without compensation. That's all changing, though.
20,000 students will be retroactively compensated for the usage of their appearance in Electronic Arts' sports title, and according to Benchmark Repoter each of these individuals will be awarded up to $7,026. The report states that the rewards will be handed out by September.
That's not really enough money to pay for tuition at an Ivy League school but for anyone looking to get a few extra bucks to help out pay for expenses and maybe some new gaming gear like a Steam Machine, PS4 or Xbox One so they can play Madden NFL (since NCAA 16 isn't getting made).
This is considered a major win for the players and protecting their rights as marketable athletes.
As for Electronic Arts, the CLC and the NCAA, I suspect they won't be caught rummaging through the talent pools to add faces and features from real-life college athletes without paying said athletes for their likeness first.
As mentioned, while the NCAA games have been put on hold, Electronic Arts is still trucking forward with Madden NFL due out this August for the Xbox 360, Xbox One, PS3 and PS4.
Staff Writer at CinemaBlend.
Your Daily Blend of Entertainment News
Thank you for signing up to CinemaBlend. You will receive a verification email shortly.
There was a problem. Please refresh the page and try again.