EA Sports UFC Causes UFC President Dana White To Lose A Bet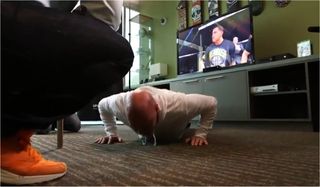 EA is really going all-in on their last ditch efforts to promote and pepper the general gaming audience with any sort of news or info about their upcoming EA Sports UFC, which is due for release this Tuesday for the Xbox One and the PlayStation 4.
Just recently, the UFC let loose a video log leading up to the next big UFC pay-per view and it lets gamers see UFC president Dana White get in some game time with EA Sports UFC, as well as making a bet that the loser of the match has to do 10 push-ups. It's safe to say that it doesn't end well for White.
As noted on Just Push Start, White was going one-on-one with TSN's Cabbie Richards before heading off to a press stop to pimp the upcoming MMA event. Unfortunately for White, the TSN reporter ended up getting the better of him in EA's new fighting title.
As for the game, we briefly get to see some fights interspersed throughout the Vlog, first at the 2:25 mark and then featured again at the 3:25 mark.
One of the things worth discussing is that in both cases when a fighter is dropped, all the players ask "is that it? Is it over?" It's interesting that in the actual game we don't see the ref run up and separate the fighters. While it doesn't change the technical elements of the game's design, it would work wonders for creating an immersive nuance to let people know that the match really is done and finished. T.K.Os and K.Os are practically the same in the way a fight ends, even though in real-life K.Os are far more embarrassing.
Another thing that also gets a lot of players is not knowing how to dive-punch to a fallen opponent to make sure that they're dead and done using the trigger modifiers. We also see that for casuals they have a tough time defending and end up just eating one big hit after another, which results in the match ending quickly. If you use intelligent counter-attacks and blocking you can get rocked and knockdown lots of times and keep fighting, sort of like in this video here from The Mr. SMTV.
I imagine that when the reviews pile in for EA Sports UFC there will be a lot of low scores from angry casuals who will have a hard time getting adjusted to the very complex control scheme and all the different modifiers, blocking techniques and the very different approach to the ground-grapple game in this title. This is not Super Smash Bros.
For me, I love learning something new every time I play the demo. Even though it's just two characters I've found that the stand-up clinch is now one of my favorite aspects of the fight, but it's not the easiest thing to pull off since you have to get in really close to an opponent in order to clinch and it leaves you open to some massive bombs if you don't protect yourself properly (as showcased in the Vlog at the top of the article).
It will be interesting to see how gamers react to the full version of EA Sports UFC, but I would be willing to bet that the game will likely stick to being a niche title for core gamers. The learning curve is steep (in a good way) and the fight mechanics are very diverse. Hopefully it does well enough that it doesn't get shelved for a few years because it doesn't turn a profit for EA.
You can learn more about EA Sports UFC by paying a visit to the game's official website. The title is due for release on June 17th, this Tuesday, for both the Xbox One and the PS4.
Your Daily Blend of Entertainment News
Staff Writer at CinemaBlend.