EA Unveils Crazy Bundles For Dead Space, Mirror's Edge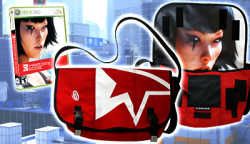 Have you thrown down cash for the $140 Gears of War 2 premium bundle with a plastic machine gun? Well then, maybe you'd be interested in these offers, too, Mr. Moneybags. EA has just announced Collector's Editions for Dead Space and Mirror's Edge that will cost $150 and $130, respectively.
Dead Space Ultra Limited Edition (Xbox 360 version only):
The Dead Space game
Special Ultra Limited Edition packaging
Dead Space Downfall Animated Movie (DVD)
Bonus content DVD
Exclusive custom lithograph art illustrated and signed by Ben Templesmith
97-pg Dead Space art book written and illustrated by the development team
160-pg Graphic novel
Ishimura crew patch
Mirror's Edge Runner's Bag Bundle (PS3 and Xbox 360 versions):
The Mirror's Edge game
Exclusive Mirror's Edge bag from Timbuk2. Hand-made from heavy-duty ballistic fiber.
You can deliberate over whether one bundle is a better value than the other but the swag is obviously secondary to one's preference for the individual games. Both bundles are offered exclusively through the EA Store. The website mentions that there's only a 1000 copies of the Ultra Limited Edition available for sale but the page hasn't been taken down yet so it seems they haven't sold out yet.
Staff Writer at CinemaBlend.
Your Daily Blend of Entertainment News
Thank you for signing up to CinemaBlend. You will receive a verification email shortly.
There was a problem. Please refresh the page and try again.