Elder Scrolls Online's Orsinium Expansion Finally Adds Controller Support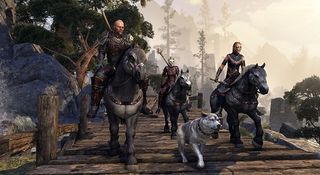 Elder Scrolls Online's new expansion pack Orsinium is taking us to never-before-seen locations. It's also introducing a much-needed feature for the PC/Mac versions: gamepad support.
Orsinium lets players travel to the city of the same name, the ancestral home of the orcs. Players can find 20 hours' worth of new quests in the city and the surrounding Wrothgar mountains. In the course of these quests, players will help the orcs return Orsinium to its former glory. The zone also includes two dungeons, Old Orsinium and Rkindaleft, and six world bosses.
Players can also test their skills in a single-player Maelstrom Arena. The arena, available in Normal and Veteran difficulty, allows you to earn special rewards through battle. Leaderboards will show you how you stack up against other members of your class.
The expansion also, of course, includes plenty of loot. There are 18 items sets, four Provisioner recipes and six costumes to earn. Some of these item sets will require you to learn the new Ancient Orc crafting style. Harvest nodes throughout the zone will scale to level-appropriate materials to make it easier for you to craft the best recipes.
Orsinium will cost 3,000 crowns to purchase through Elder Scrolls Online's in-game store. A 5,000 crown "Collector's Bundle" will give you the DLC, Cave Bear mount, Cave Bear Cub and five Crown Experience Scrolls. If you're a subscriber to ESO, you'll get the DLC for no additional charge.
The DLC will be accompanied by a patch available to all for no charge. Here are the main features that ZeniMax announced today for the update:
Gamepad support
Subtitles
LFG improvements – cross-alliance dungeons
Champion Point cap & catch-up system
Shield Dyeing
Improvements to battle-leveling
Akaviri crafting style
Ability balance and bug fixes
New ways to spend Alliance Points
Increased item drop rates
There's a lot to like in that list. Gamepad support jumps out the most to me, though. It was possible to use a controller on PC and Mac but it wasn't ideal by any means. You had to use a third-party app which essentially turned your analog stick into a mouse pointer. Now that ZeniMax has made console versions of ESO, though, there was no excuse not to optimize the PC/Mac editions for gamepad as well.
Orsinium will launch on PC and Mac on November 2nd. The Xbox One and PS4 will receive the new content on November 17th and November 18th, respectively. If you want to try the expansion on PC on the Public Test Server, follow the instructions on the game's website.
Image 1 of 3
Staff Writer at CinemaBlend.