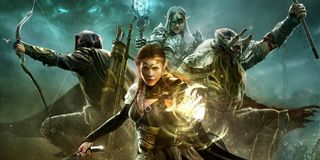 Elder Scrolls Online will soon be playable without a monthly subscription. PC, Mac, PS4 and Xbox One owners will only need to purchase the game to play it.
Players will be able to purchase additional DLC for Elder Scrolls Online or items using real-world money. If they'd rather not make these individual purchases, though, they can pay the optional subscription. ESO's new business model comes with a new name: The Elder Scrolls Online: Tamriel Unlimited.
"In Tamriel Unlimited, you'll be able to purchase optional downloadable content, and the new in-game Crown Store will offer convenience and customization items," ZeniMax said today. "If you choose, you can pay a single monthly charge for our premium membership, ESO Plus, to receive monthly in-game benefits and a monthly allotment of crowns to spend in the store. Our team remains committed to providing a great experience to all players, and you can expect continued, regular updates free of charge in addition to our new store offerings."
The Crown Store uses a new virtual currency called crowns. Unfortunately, they can't be traded among players. If you want them, you're going to have to spend actual money.
ESO Plus members get a 10% bonus to experience point gain, crafting research, crafting inspiration gain and gold acquisition. More importantly, they'll have access to all the game's DLC while they maintain their membership. This DLC will include new zones and quests.
I'm not surprised to see ZeniMax ditching mandatory subscriptions, even if there weren't abundant clues. A monthly fee puts a lot of pressure on studios to create a steady stream of new content and fix bugs really quickly. The players are constantly deciding whether the game is worth another month's subscription.
By switching to a microtransaction-driven business model, ZeniMax can keep the game solvent by relying on big purchases from a smaller core of players. It also means that there will be a large pool of casual players around to make large-scale activities like the three-way war viable.
Tamriel Unlimited will be implemented for the PC and Mac version of Elder Scrolls Online on March 17th. Normal subscriptions will automatically transition to Plus membership. ZeniMax won't be offering any refunds.
In addition to announcing Tamriel Unlimited, ZeniMax finally revealed the release date for the Xbox One and PS4 versions. The MMORPG will debut on both consoles worldwide on June 9th. They didn't mention if there's still a beta planned or when it would take place.
It should be noted that while the console versions don't require an ESO subscription, you will need a PlayStation Plus or Xbox Live membership to play them. ZeniMax suggested last year that PS4 gamers might not need PS Plus but the game's website confirmed today that you will.
"Players must have a PlayStation Plus or Xbox Live account to play The Elder Scrolls Online: Tamriel Unlimited on PS4 and Xbox One, respectively," says the newly updated support site.
If that wasn't enough ESO news for one day, the developer also released the game's fourth and final cinematic trailer. This trailer continues the storyline from the first three trailers.
Your Daily Blend of Entertainment News
Staff Writer at CinemaBlend.