Elite: Dangerous Gameplay Video Shows A Planetary Battle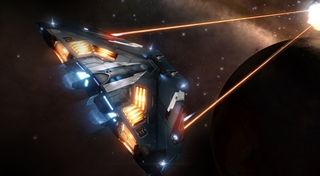 David Braben released a 22 second trailer on his YouTube channel to showcase the very first planetside battles in Elite: Dangerous. The clip is short and snappy but it's chock full of action and gives gamers a nice look at what's to come.
You can check out the short video below from Braben's channel.
Braben also uses the description box on the YouTube video to explain exactly what you're looking at above, considering that anyone who isn't readily familiar with Elite: Dangerous or its development progress would likely find themselves completely confused about the 22 second clip above. The developer writes...
The addition of planet-side combat has been a long time coming. They originally aimed to just get out basic exploration and questing system centered around the space combat, and they actually did manage to do that.
The crowd-funded game has been moving steadily through development toward the addition of planetary conflicts, as it was teased in the video snippet above.
Even though the game has officially released, Frontier Developments is still hard at work on upgrading the game and adding new content. The latest update for the game arrived on October 6th, earlier in the month, which brought a number of tweaks and fixes, along with a plug for a nasty memory leak that the game was suffering from. The update helped pave the way for the Horizons patch that will include the new planetary elements, including the ground vehicles.
Elite: Dangerous was originally brought back onto the scene via a crowd-funding campaign that took place on Kickstarter back in the fall of 2012, three years ago. The game has steadily increased its content and functionality, eventually exiting the PC-exclusivity arena and launching on the Xbox One this past fall with the PlayStation 4 version en route as well.
As for what the true goals are of Elite: Dangerous at this point, they're planning on fleshing out the planetary combat to give the game not only a diverse galactic feeling in space but also something to fight for when interacting with various planets.
It's still unfortunate that the offline mode didn't make the cut for the game but at least the team still seems dedicated to pumping out more content for the title. You can learn more about the new updates and the added gameplay features coming to the space sim by paying a visit to the official Elite: Dangerous website.
Your Daily Blend of Entertainment News
Staff Writer at CinemaBlend.