Elite Dangerous And Star Citizen Will Get Leonard Nimoy Tributes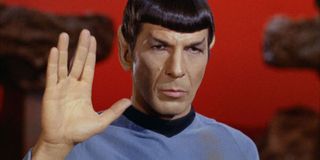 Star Trek Online won't be the only game that honors Leonard Nimoy. Fellow space exploration games Elite: Dangerous and Star Citizen have posthumous tributes planned for the actor as well.
"No petition necessary," said Cloud Imperium community director Ben Lesnick on the Star Citizen forums (via MassivelyOP). "I think it's safe to say that Mr. Nimoy was an inspiration to all of us on the team, both acting as Spock and because of his core, kind humanity. We will find an appropriate way to honor him."
Lesnick shared some touching words on Nimoy as well:
Elite: Dangerous studio Frontier Developments has already decided on how they'll honor Nimoy. They plan to add a Nimoy Memorial station into their game's galaxy. The space station will orbiting the planet Vulcan, found in the LHS 3006 star system. This space station will be part of the upcoming 1.2 update, which also includes the long-teased Wings feature.
There's already a space station orbiting Vulcan called "WCM Transfer Orbital." Presumably Frontier will just rename that station rather than adding a second one to the planet's orbit. Here's a screenshot of the planet and space station together (via FirstGreatExpedition:
Star Trek Online players gathered on Friday for an impromptu memorial service. The MMO's developers, Cryptic Studios, are also planning to add some permanent tribute to the actor.
"Everyone at Cryptic Studios was saddened to hear of his passing and we want to make sure we never forget the cultural impact of the man or the character he played," STO executive producer Steve Ricossa said this weekend. "To that end, the Star Trek Online team will implement a standing in-game memorial to Spock and Leonard Nimoy this Thursday March 5th with our regular weekly maintenance."
Nimoy passed away from pulmonary disease on Friday. You can read the TV section's tribute to him here.
Your Daily Blend of Entertainment News
Staff Writer at CinemaBlend.